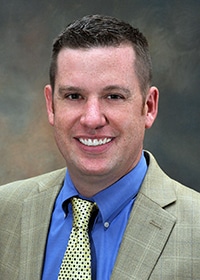 Andy Stansfield is a Vice President and Natural Resource Group Leader at GTA's Abingdon, Maryland office. With 14 years of experience, he is responsible for supervision and execution of natural environmental services including: wetland delineations, forest stand delineations, forest conservation plans, GPS location of environmental features, federal and state permit processing, and mitigation planning and design. Andy has experience with the U.S. Army Corps of Engineers (USACE), Section 401 & 404 Permit processes, including state permitting in Maryland, Delaware, Pennsylvania, and Virginia.
Andy works closely with project planners, civil engineers, and client representatives to prepare site layouts that identifies, avoids, and minimizes impacts to environmentally sensitive areas, he expedites the review process, and obtains Federal and State permits.
His permitting experience includes negotiating with various state and federal permitting agencies including, but not limited to, USACE, Environmental Protection Agency (EPA), Federal Energy Regulatory Commission (FERC), Maryland Department of the Environment (MDE), Maryland Department of Natural Resources (DNR), National Marine Fisheries Service (NMFS), United States Fish & Wildlife Service (USFWS), Pennsylvania Department of Environmental Protection (PA DEP), Delaware Department of Natural Resources and Environmental Control (DNREC), Virginia Marine Resources Commission (VAMRC), and Virginia Department of Environmental Quality (VADEQ). Andy also has experience in the Chesapeake Bay Critical Area Commission's (CAC) review and approval process, and performs wetland and stream mitigation monitoring for compliance with Federal and State permits.
He received his Bachelor of Science degree in environmental analysis and planning from Frostburg State University. Andy is a member of Society of Wetland Scientists, Cecil County Chamber of Commerce, Delaware American Water Resource Association, and he is a Member of the Board for Home Partnership, Inc.
Andy has provided environmental services for private and public sector clients on numerous projects and has conducted wetland delineations on hundreds of sites. Noteworthy projects that Andy has managed include: Wetland delineation and permitting services for One Maryland Broadband Network, a 1,300-mile fiber optic broadband network project that links over 1,000 government facilities and community anchor institutions in all 23 counties and Baltimore City; and natural and cultural resource evaluations, federal and state permitting services, and environmental monitoring associated with natural gas pipelines.