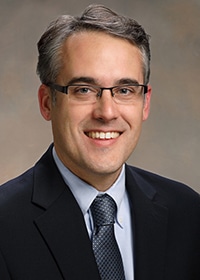 Benjamin Dinsmore, P.E.
Vice President
Geotechnical Engineering
Construction Observation
and Testing

Laurel, MD Office
(410) 792-9446
BDinsmore@www.gtaeng.com
We are pleased to announce the promotion of Benjamin T. Dinsmore, P.E., to the position of Vice President of GTA.
As a Vice President with GTA and licensed Professional Engineer in Maryland with 21 years of experience, Ben is responsible for managing the Geotechnical Engineering group in GTA's Laurel, Maryland office. In this role, he coordinates and oversees drilling and other subsurface exploration operations, laboratory testing, and engineering evaluations, and prepares geotechnical exploration reports for a wide range of projects.
Ben routinely provides geotechnical recommendations for large residential developments, all aspects of retail/commercial developments, and designs foundations to support high-rise buildings. He also performs slope stability evaluations, designs retaining walls, underdrain systems, micropiles, and other structures in support of these developments. He is particularly knowledgeable of the Baltimore and Maryland-National Capital area market and geologic conditions and associated challenges. Ben provides technical assistance and oversight to field personnel during drilling and construction operations and testing for a variety of infrastructure, government, commercial, and residential projects. His field experience includes monitoring, testing, and evaluation of the placement/suitability of controlled fill, foundation soils, reinforced concrete, structural steel, pavements, slope stabilization measures, retaining walls, micropiles, and other various geotechnical and construction monitoring activities.
He received his Bachelor of Science degree in Civil Engineering from Bucknell University, in Lewisburg, Pennsylvania in 1998. He also attended graduate school at the University of Maryland with a focus in Geotechnical Engineering. He is a member of the following professional and industry organizations: American Society of Civil Engineers, Washington Building Congress (WBC), Maryland Building Industry Association (MBIA).
Ben's team of eight engineering professionals is actively working on several large residential developments in the rapidly growing Prince George's County, several high-rise buildings and mixed-use developments in Baltimore, and all jurisdictions in between.