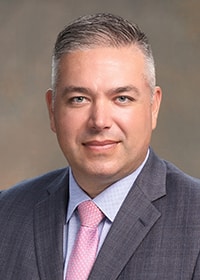 David J. Garbarino
Chief Administrative Officer
Finance
Abingdon, MD Office
(443) 372-1152
DGarbarino@gtaeng.com
We are pleased to announce that David J. Garbarino has joined GTA.
David was formerly the Northern MD Market President at Truist (BB&T) and served as the senior banker responsible for management and optimization of all commercial banking functions. Now working out of GTA's headquarters in Abingdon, David is responsible for overseeing the financial, legal and HR functions of the firm while participating in future expansion initiatives and business development opportunities.
In addition to working for Truist for more than 20 years, David graduated from Elon University with a Bachelor of Science degree in Finance. He is also a graduate of BB&T's Leadership Development Program, and has attended ABA Stonier Graduate School of Banking at the University of Pennsylvania's Wharton School of Business.
David is active in the local community, volunteering over the years for Junior Achievement, Kennedy Krieger Institute, and the Special Olympics. Current Board positions include Ex-Officio for the Kennedy Krieger Institute Corporate Board and the Miles & Stockbridge Advisory Board. Dave was selected as one of the Baltimore Business Journal's 40 under 40 in 2013, and he was the 2019 Chimes Gala Honoree.
"GTA has known and respected David as a valued business partner and resource for over a decade. Now that he has officially joined our management team, we know that GTA will benefit from his business acumen and his proactive approach to challenging issues. We are very pleased to have him on our team," said Pat Klima, PE, President.