Market - Apartments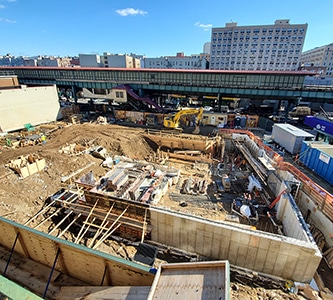 1769 Jerome Avenue, Bronx Borough, NY
Geotechnical engineering, support of excavation (SOE) design, special inspection services including deep foundation load testing, and review of Site Safety Plans for the new 16-story, 144,000-SF mixed-use building with 175 affordable residential units, a footprint of approximately 15,000 SF, and partial cellar level 10 feet below the sidewalk level.
The building is supported by a combination of footings bearing on rock and 180-ton caisson piles socketed into the highly weathered rock.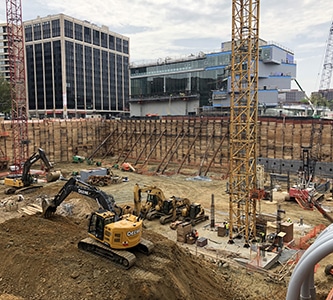 The Highlands, Arlington County, VA
Part of the West Rosslyn Area Plan Study (WRAPS), a County-driven and community-involved redevelopment opportunity.
Geotechnical engineering, environmental consulting, and COT services for the 1,200,000-SF above grade complex with three high-rise towers containing upscale condominium and luxury apartment communities, and ground floor retail. The complex also includes four levels of below grade parking for approximately 1,050 cars.
Atwater Village, Chester County, PA
Geotechnical and environmental consulting and COT services for the 147-acre mixed-use development with 549 single, twin, and townhomes, nine apartment buildings, a daycare facility, and four commercial pad sites.
Saved the client an estimated cost of over $2,000,000.
Village South at Waugh Chapel, Anne Arundel County, MD
Drilling, lab testing, geotechnical engineering, environmental consulting, & COT services for the 100-acre, 1.2 million-SF residential, retail, & commercial development, located at the site of a former sand & gravel mine reclaimed with fly ash.
Site issues encountered included: fly ash fill, loose fly ash, uncontrolled fill, a stump dump, a deep mined hole, a tall retaining wall on uncontrolled fill, an existing deep sewer with poor backfill, and a proposed deep sewer close to a building.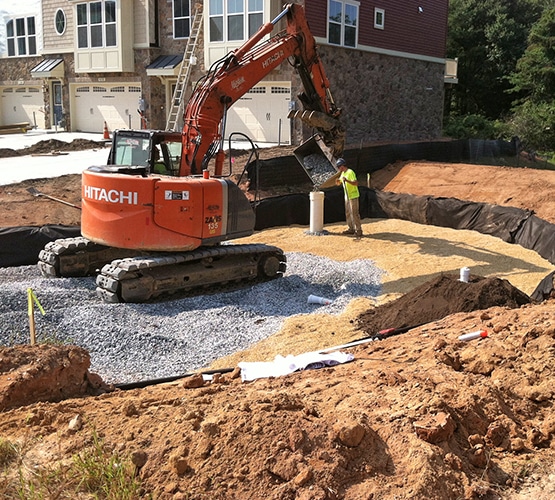 Creekside Village, Anne Arundel County, MD
Geotechnical engineering, environmental consulting, COT services for the 161-acre community with 820 single-family homes and townhome lots, 208 apartment units within six buildings, two clubhouses, & two swimming pools.
Named "Community of the Year," by MBIA Land Development Council.
Received the "Excellence in Construction Award, New Project Over $10 Million," from Baltimore Metro Chapter of the Associated Builders and Contractors, Inc.
The Residences at Mid-Town Park, City of Wilmington, DE
Subsurface exploration, laboratory testing, geotechnical engineering, and COT services.
Shear wave tests and post construction dewatering recommendations for foundation and pavement design.
417,000-SF, 3 levels of underground parking for 511-cars, requiring excavations of about 32 to 44 feet.
5-story and a 7-story buildings connected by pedestrian bridge, retail, 198 apartment units, elevated courtyard, and resort-style swimming pool.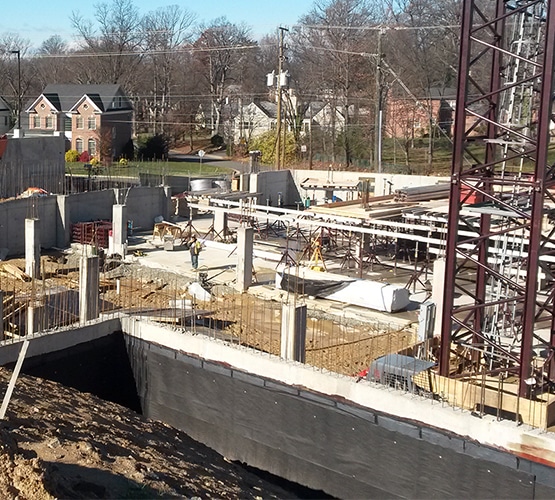 6410 Arlington Boulevard, Falls Church, VA
Geotechnical engineering, retaining wall design, environmental consulting, & COT services for 2 stories of below-grade parking, & 5 stories above-grade w/ apartments, retail, & townhouses.
Obstacles included adjacent parking garage w/ uncertain foundation conditions, adjacent below grade parking garage which could not receive additional lateral loading, existing fill and loose, wet soil conditions.
COT for this project fell under the stringent guidelines of Fairfax County's Special Inspection Program.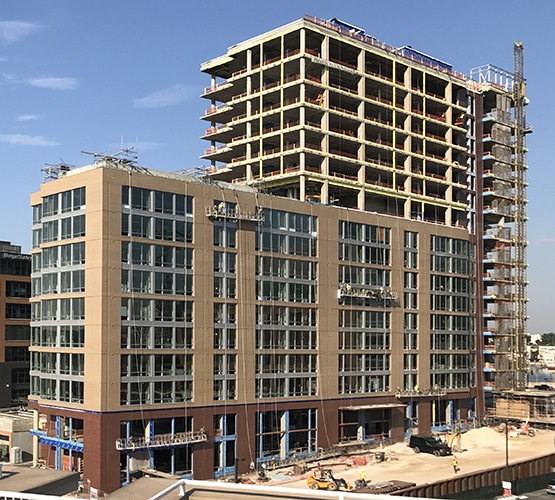 Point Street Apartments, Baltimore City, MD
Geotechnical engineering, environmental consulting, and COT services for the 270,000-SF, 17-story apartment building with a one-level, 40,000-SF below grade parking garage, and 18,000 SF of retail space on the first floor.
The foundations for the project include over 300 driven, environmental concentric closed-end steel pipe piles filled with concrete.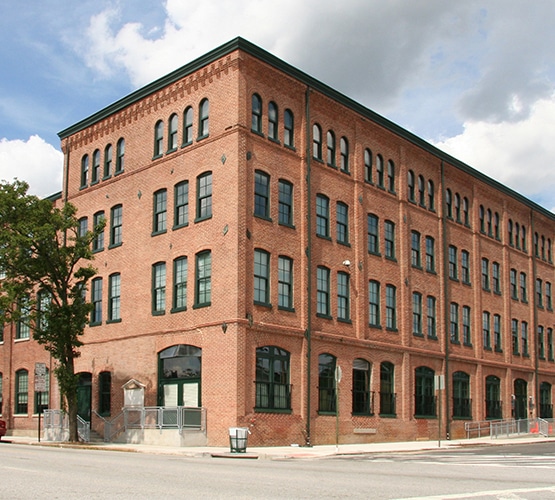 Miller's Court, Baltimore City, MD
$20.3 M mixed-use redevelopment.
Phase I and II Environmental Site Assessments as part of BDC's Brownfield Initiative for the site.
Samples collected from the site reported elevated concentrations of petroleum, volatile organic compounds, and metals in soil and groundwater. One 1,000-gallon gasoline UST, one 10,000-gallon AST, and 120 tons of petroleum impacted soil were removed from the site.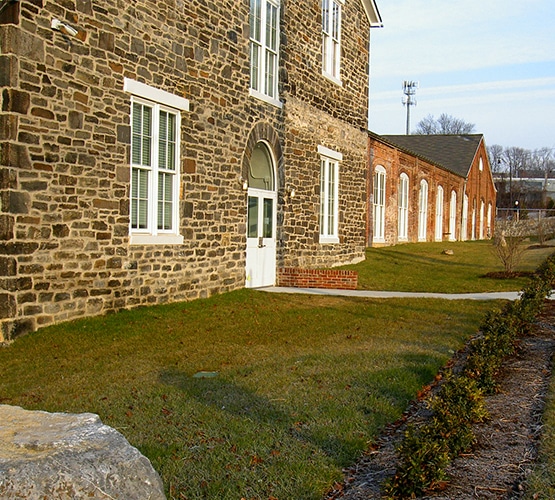 Union Mill, Baltimore City, MD
Awards: WaveMaker Award – ULI Baltimore; Phoenix Award – Preservation MD; Brownfield Renewal Award/Sustainability Impact Category.
Phase II Environmental Site Assessment for the $20 million redevelopment of a historic former industrial property into an 86,000-SF mixed-use facility containing 56 one and two-bedroom apartment units targeted to teachers, and 25,000 SF of office space designed for non-profit organizations.
The site was entered into the MDE VCP.