Market - Infrastructure & Transportation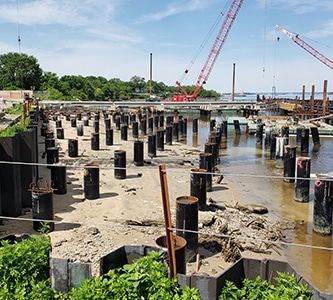 Paulsboro Marine Terminal Phase 2, Gloucester, NJ
Two new deep-water berths totaling over 1,500 linear feet of wharf face along the Delaware River and one 500-foot barge berth on Mantua Creek.
Quality control and observation and testing of site work, pile installation, reinforcing steel, cast-in-place concrete, post installed anchors, pre-cast concrete, and structural steel; laboratory testing; and engineering supervision and consultation.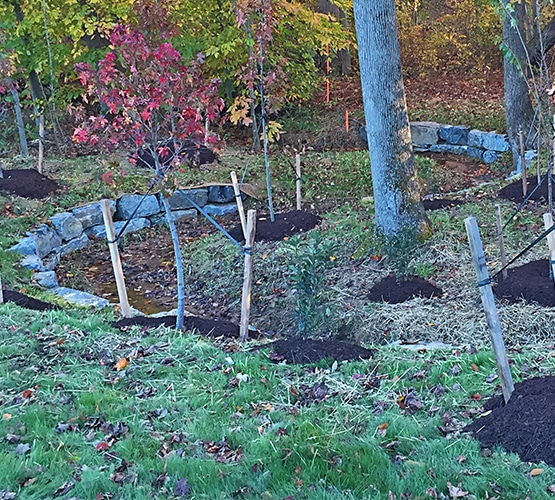 Bel Air Auto Auction Stream Restoration Project, Harford County, MD
Stream restoration design, construction observation and project management for a 75-foot section of severely degraded and eroded channel that flows into the preserved wetland area.
State and federal wetland permits for permanent impacts to intermittent streams from development of the 175-acre Riverside East Business Park property.
Grading and the installation of imbricated rip-rap toe rock around two eroded stream bends to minimize further scouring and erosion during storm events.
The Residences at Bulle Rock, Harford County, MD
Geotechnical engineering, environmental consulting, and COT services for the 977-acre residential development.
Services include testing for mass grading, SWM facilities, subsurface utilities, and monitoring lot fill treated with soil cement.
Inspections of cast-in place concrete, foundations, reinforcing steel as well as structural steel inspections for clubhouse building & water tower.
Observations for construction of a bottomless arch bridge, and construction of a reinforced soil slope and modular block retaining wall.
Named HBA of MD, LDC, Project of the Year.
Village South at Waugh Chapel, Anne Arundel County, MD
Drilling, lab testing, geotechnical engineering, environmental consulting, & COT services for the 100-acre, 1.2 million-SF residential, retail, & commercial development, located at the site of a former sand & gravel mine reclaimed with fly ash.
Site issues encountered included: fly ash fill, loose fly ash, uncontrolled fill, a stump dump, a deep mined hole, a tall retaining wall on uncontrolled fill, an existing deep sewer with poor backfill, and a proposed deep sewer close to a building.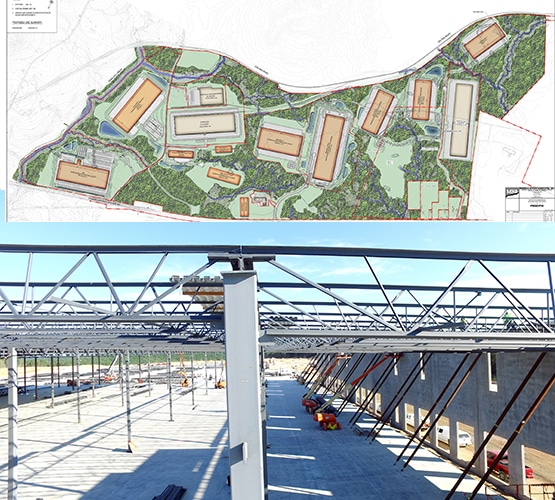 Principio Business Park & Warehouses, Cecil County, MD
GTA provided geotechnical engineering and natural resource planning services in conjunction with the comprehensive master land use plan for large warehouse/distribution (up to 1,500,000 SF in size) and office uses at the 1,000-acre property with rail access and close proximity to I-95.
Also provided geotechnical explorations and recommendations, natural resources planning, environmental consulting, & COT services for several parcels at the business park.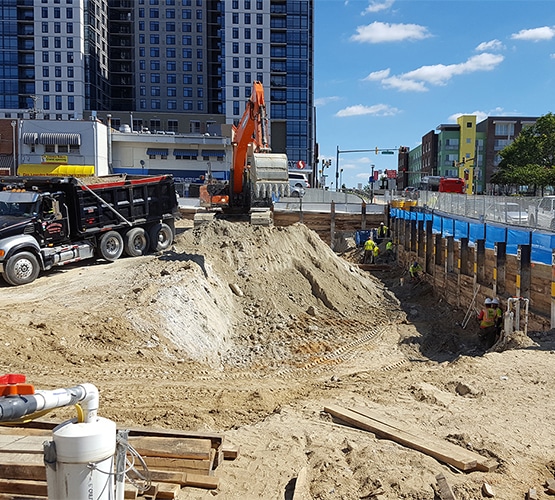 Wheaton Triangle Office Building, Montgomery County, MD
Environmental & geotechnical consulting during design, and environmental services during site excavation & construction.
$170 million, 489,714-SF office building with a 4-story underground parking garage, 1st floor retail, 14-stories of office space, Town Square, and transit connection.
New headquarters of M-NCPPC.
A geothermal heating/cooling system will be located beneath the parking garage, one of the first such applications in MD.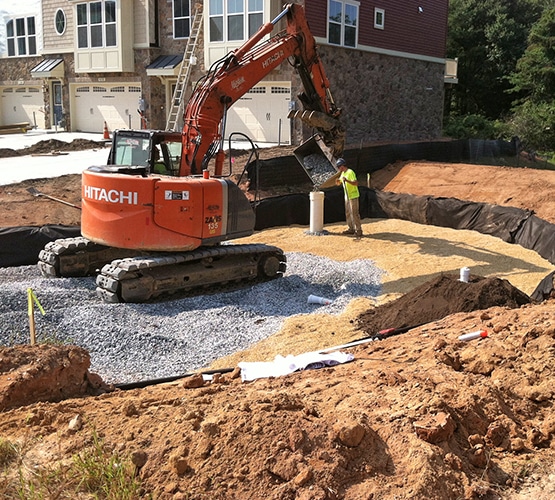 Creekside Village, Anne Arundel County, MD
Geotechnical engineering, environmental consulting, COT services for the 161-acre community with 820 single-family homes and townhome lots, 208 apartment units within six buildings, two clubhouses, & two swimming pools.
Named "Community of the Year," by MBIA Land Development Council.
Received the "Excellence in Construction Award, New Project Over $10 Million," from Baltimore Metro Chapter of the Associated Builders and Contractors, Inc.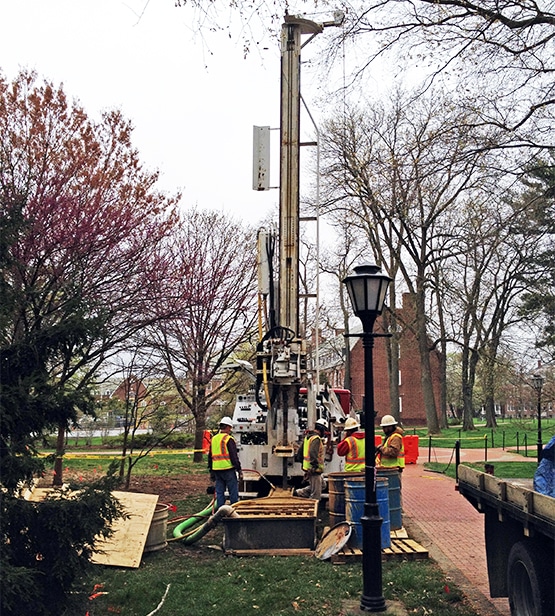 University of Delaware, Campus Utility Plant Supply Well, Newark, DE
Performed exploratory drilling to evaluate the potential for locating a new UDCUP water supply well.
Performed a 48-hour pumping test on the existing UDCUP well to evaluate the potential for increasing the permitted well withdrawal rates.
GTA coordinated efforts with the City of Newark Director of Public Works and DNREC.
GTA prepared a Water Allocation Permit Modification for increased withdrawal based on the results of our evaluation.
The Residences at Mid-Town Park, City of Wilmington, DE
Subsurface exploration, laboratory testing, geotechnical engineering, and COT services.
Shear wave tests and post construction dewatering recommendations for foundation and pavement design.
417,000-SF, 3 levels of underground parking for 511-cars, requiring excavations of about 32 to 44 feet.
5-story and a 7-story buildings connected by pedestrian bridge, retail, 198 apartment units, elevated courtyard, and resort-style swimming pool.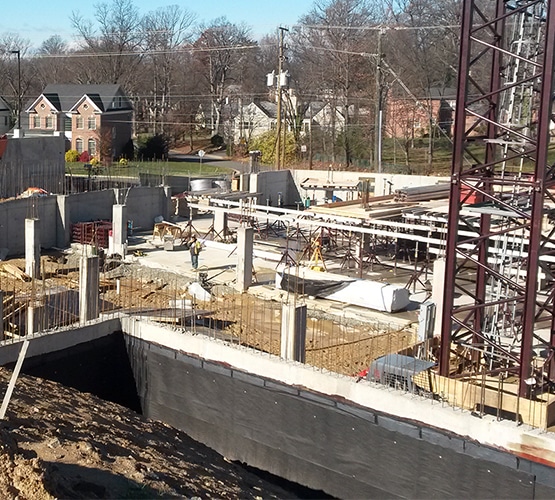 6410 Arlington Boulevard, Falls Church, VA
Geotechnical engineering, retaining wall design, environmental consulting, & COT services for 2 stories of below-grade parking, & 5 stories above-grade w/ apartments, retail, & townhouses.
Obstacles included adjacent parking garage w/ uncertain foundation conditions, adjacent below grade parking garage which could not receive additional lateral loading, existing fill and loose, wet soil conditions.
COT for this project fell under the stringent guidelines of Fairfax County's Special Inspection Program.