Market - Infrastructure & Transportation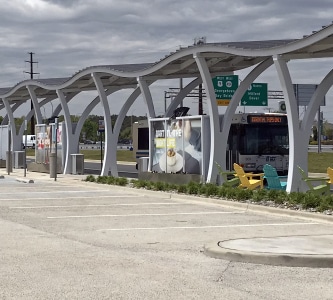 Lewes Transit Center, Park & Ride, Sussex County, DE
Largest public sector pervious pavement project in Delaware.
Construction observation and testing services during all three construction phases.
GTA's National Ready Mixed Concrete Association (NRMCA) and American Concrete Institute (ACI) certified staff provided the quality control services.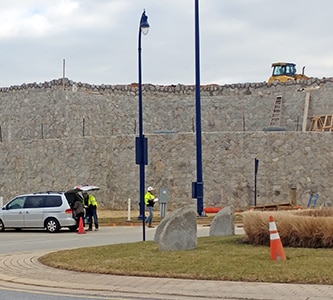 The Uplands Retaining Walls, Prince George's County, MD
Subsurface exploration, laboratory testing, geotechnical analysis, retaining wall design, and construction observation and testing services for the Uplands' site at National Harbor.
Designed a two-tier and a three-tier gravity retaining wall. The lowest tier's maximum height is 16 feet high. The middle tier has a maximum height of 10 feet. The upper tier has a maximum height of 6 feet high.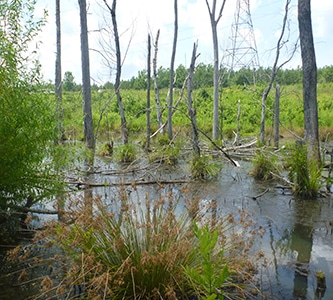 Highway 274 Force Main Replacement, York County, SC
Geotechnical engineering and natural resource services for the replacement and expansion of approximately 7.0 miles of force main.
GTA obtained authorization from the South Carolina Department of Health and Environmental Control to install the utility line beneath state navigable waters.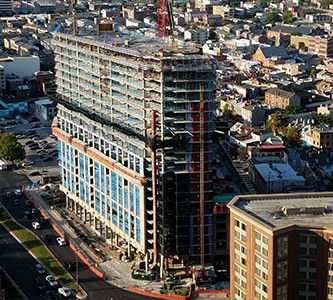 Avalon 555 President, Baltimore City, MD
Geotechnical engineering, environmental consulting, and construction observation and testing services during construction of the foundation of the 23-story, 550,000-SF, 380-unit apartment building with ground level retail space, and seven-story parking garage.
Geotechnical services included design of the drilled pier deep foundation system for the structure. GTA oversaw the installation and performance of over 100 drilled piers ranging from 2.5 to 5-foot diameter, and 50 to 120 feet.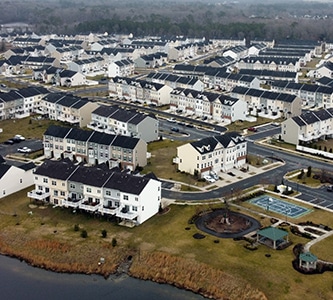 Plantation Lakes, Sussex County, DE
Geotechnical engineering, environmental consulting, wetland delineation, hydrogeologic services, and construction observation and testing services for the 664-acre, 2,510-unit Residential Planned Community (RPC), 18-hole Championship Golf Course, and 22,000-SF award-winning clubhouse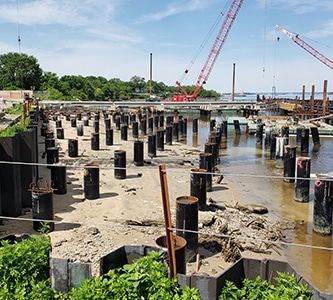 Paulsboro Marine Terminal Phase 2, Gloucester, NJ
Two new deep-water berths totaling over 1,500 linear feet of wharf face along the Delaware River and one 500-foot barge berth on Mantua Creek.
Quality control and observation and testing of site work, pile installation, reinforcing steel, cast-in-place concrete, post installed anchors, pre-cast concrete, and structural steel; laboratory testing; and engineering supervision and consultation.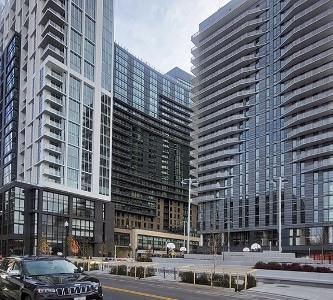 The Highlands, Arlington County, VA
Part of the West Rosslyn Area Plan Study (WRAPS), a County-driven and community-involved redevelopment opportunity.
Geotechnical engineering, environmental consulting, and COT services for the 1,200,000-SF above grade complex with three high-rise towers containing upscale condominium and luxury apartment communities, and ground floor retail. The complex also includes four levels of below grade parking for approximately 1,050 cars.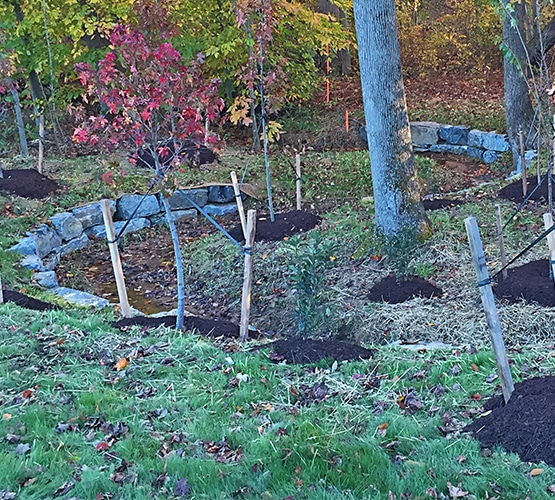 Bel Air Auto Auction Stream Restoration Project, Harford County, MD
Stream restoration design, construction observation and project management for a 75-foot section of severely degraded and eroded channel that flows into the preserved wetland area.
State and federal wetland permits for permanent impacts to intermittent streams from development of the 175-acre Riverside East Business Park property.
Grading and the installation of imbricated rip-rap toe rock around two eroded stream bends to minimize further scouring and erosion during storm events.
The Residences at Bulle Rock, Harford County, MD
Geotechnical engineering, environmental consulting, and COT services for the 977-acre residential development.
Services include testing for mass grading, SWM facilities, subsurface utilities, and monitoring lot fill treated with soil cement.
Inspections of cast-in place concrete, foundations, reinforcing steel as well as structural steel inspections for clubhouse building & water tower.
Observations for construction of a bottomless arch bridge, and construction of a reinforced soil slope and modular block retaining wall.
Named HBA of MD, LDC, Project of the Year.
Village South at Waugh Chapel, Anne Arundel County, MD
Drilling, lab testing, geotechnical engineering, environmental consulting, & COT services for the 100-acre, 1.2 million-SF residential, retail, & commercial development, located at the site of a former sand & gravel mine reclaimed with fly ash.
Site issues encountered included: fly ash fill, loose fly ash, uncontrolled fill, a stump dump, a deep mined hole, a tall retaining wall on uncontrolled fill, an existing deep sewer with poor backfill, and a proposed deep sewer close to a building.