Market - Mining & Reclamation
Village South at Waugh Chapel, Anne Arundel County, MD
Drilling, lab testing, geotechnical engineering, environmental consulting, & COT services for the 100-acre, 1.2 million-SF residential, retail, & commercial development, located at the site of a former sand & gravel mine reclaimed with fly ash.
Site issues encountered included: fly ash fill, loose fly ash, uncontrolled fill, a stump dump, a deep mined hole, a tall retaining wall on uncontrolled fill, an existing deep sewer with poor backfill, and a proposed deep sewer close to a building.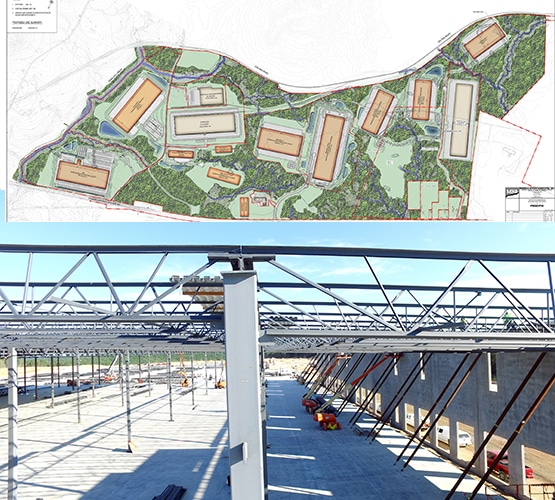 Principio Business Park & Warehouses, Cecil County, MD
GTA provided geotechnical engineering and natural resource planning services in conjunction with the comprehensive master land use plan for large warehouse/distribution (up to 1,500,000 SF in size) and office uses at the 1,000-acre property with rail access and close proximity to I-95.
Also provided geotechnical explorations and recommendations, natural resources planning, environmental consulting, & COT services for several parcels at the business park.
Hanover Ridge Trade Center, Luzerne County, PA
175-acre reclaimed mining site redevelopment to include several warehouses totaling 2,000,000+ SF.
Subsurface explorations, laboratory testing, geophysical (ERI & EM) surveys, and geotechnical evaluation, and COT services.
32 test pits, 50 site wide SPT test borings, and several deep borings.
GTA's recommendations included dynamic compaction (over 2 million SF) and shallow foundations, deep surface compaction, and slope reconstruction.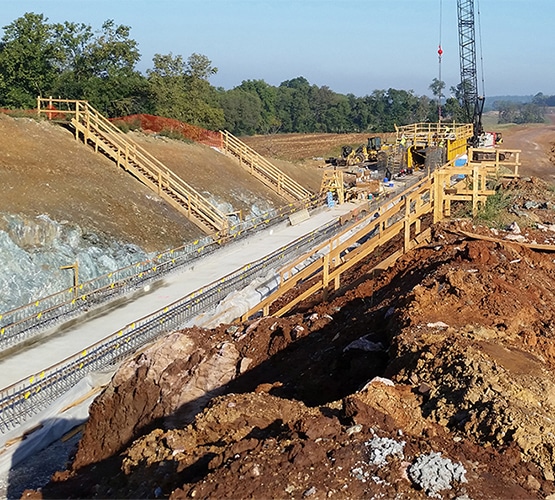 Union Bridge Quarry Replacement, New Windsor, MD
Geotechnical consultation, geophysical survey, and COT services for the five-mile conveyor and associated site improvements between the Union Bridge and New Windsor plants.
GTA complied several years of new and previous subsurface data to provide design and construction recommendations for the overland and tunneled conveyor sections, as well as the foundations for the rock crusher, retaining walls, transfer towers, and conveyor bents.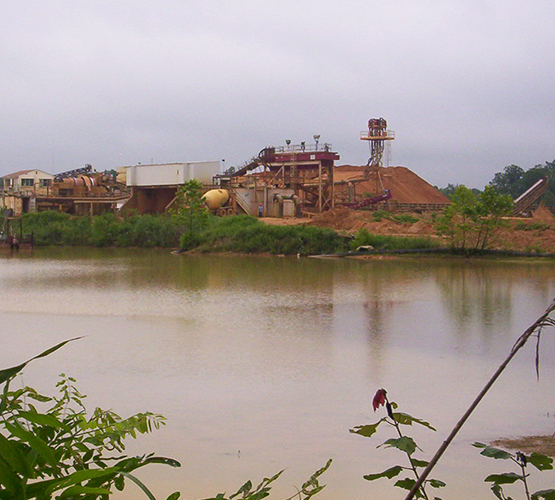 Sand & Gravel Mining Site Potential Redevelopment, Charles County, MD
Planned mixed-use development at the site of an existing sand and gravel mine.
GTA performed a combination of SPT, CPT, and DMT soundings to evaluate the engineering characteristics of the soils and determine their potential impact on development.
GTA worked with the project team to devise several options/methods for construction of structures in areas which are underlain by the wash pond sediments.