Market - Residential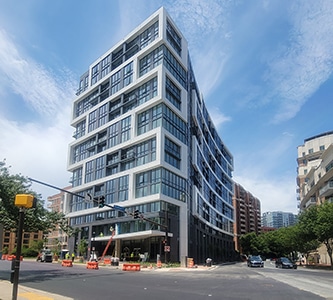 The Edge Apartments, Montgomery County, MD
GTA provided environmental consulting, underslab drainage system design, and construction observation and testing (COT) services.
15-story, 154-unit luxury apartment tower with two levels of underground parking, located on 1.65 acres and within walking distance to the Bethesda Metro station.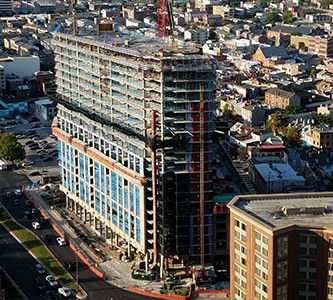 Avalon 555 President, Baltimore City, MD
Geotechnical engineering, environmental consulting, and construction observation and testing services during construction of the foundation of the 23-story, 550,000-SF, 380-unit apartment building with ground level retail space, and seven-story parking garage.
Geotechnical services included design of the drilled pier deep foundation system for the structure. GTA oversaw the installation and performance of over 100 drilled piers ranging from 2.5 to 5-foot diameter, and 50 to 120 feet.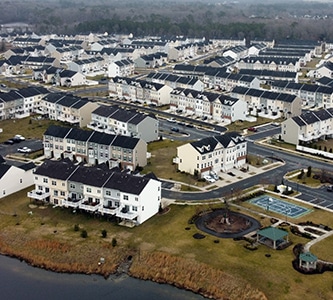 Plantation Lakes, Sussex County, DE
Geotechnical engineering, environmental consulting, wetland delineation, hydrogeologic services, and construction observation and testing services for the 664-acre, 2,510-unit Residential Planned Community (RPC), 18-hole Championship Golf Course, and 22,000-SF award-winning clubhouse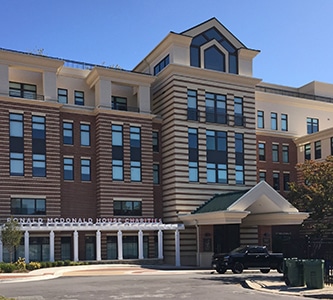 Ronald McDonald House, Baltimore City, MD
Environmental services, subsurface exploration, and installation of borehole inclinometers for the new six-story, 60,000-SF Ronald McDonald House structure in Historic Jonestown
Provided recommendations for construction of the two-story, below-grade garage which would be in close proximity to historic buildings, originally constructed in the 18th and 19th centuries
Construction observation and testing services
Named Best in Real Estate by Baltimore Business Journal. Received Award of Excellence by MBIA, LDC and NAIOP, MD Best Community Impact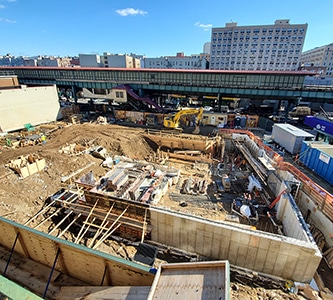 1769 Jerome Avenue, Bronx Borough, NY
Geotechnical engineering, support of excavation (SOE) design, special inspection services including deep foundation load testing, and review of Site Safety Plans for the new 16-story, 144,000-SF mixed-use building with 175 affordable residential units, a footprint of approximately 15,000 SF, and partial cellar level 10 feet below the sidewalk level.
The building is supported by a combination of footings bearing on rock and 180-ton caisson piles socketed into the highly weathered rock.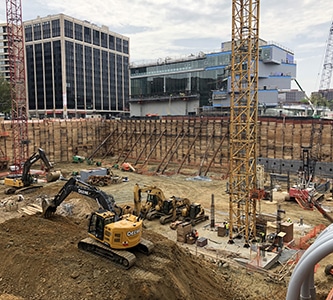 The Highlands, Arlington County, VA
Part of the West Rosslyn Area Plan Study (WRAPS), a County-driven and community-involved redevelopment opportunity.
Geotechnical engineering, environmental consulting, and COT services for the 1,200,000-SF above grade complex with three high-rise towers containing upscale condominium and luxury apartment communities, and ground floor retail. The complex also includes four levels of below grade parking for approximately 1,050 cars.
Atwater Village, Chester County, PA
Geotechnical and environmental consulting and COT services for the 147-acre mixed-use development with 549 single, twin, and townhomes, nine apartment buildings, a daycare facility, and four commercial pad sites.
Saved the client an estimated cost of over $2,000,000.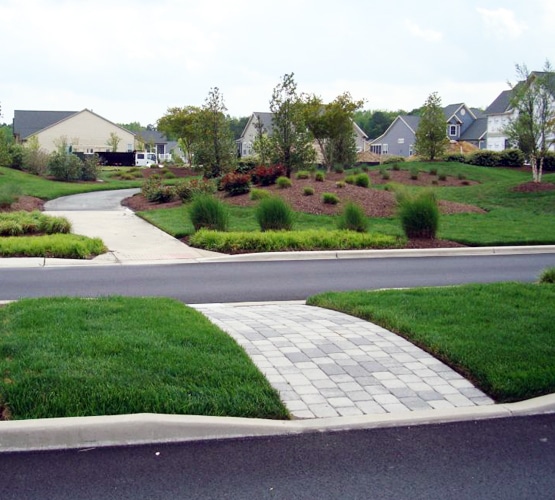 Bay Forest Club, Sussex County, DE
Geotechnical engineering, wetland delineation and permitting, and COT services for the 407-acre Residential Planned Community.
This 913-unit community focuses on environmental protection and enhancement, and was design to preserve over 139 acres (36%) of open space with 90 acres (50%) of the existing forest remaining for trails and passive open space.
The Residences at Bulle Rock, Harford County, MD
Geotechnical engineering, environmental consulting, and COT services for the 977-acre residential development.
Services include testing for mass grading, SWM facilities, subsurface utilities, and monitoring lot fill treated with soil cement.
Inspections of cast-in place concrete, foundations, reinforcing steel as well as structural steel inspections for clubhouse building & water tower.
Observations for construction of a bottomless arch bridge, and construction of a reinforced soil slope and modular block retaining wall.
Named HBA of MD, LDC, Project of the Year.
Village South at Waugh Chapel, Anne Arundel County, MD
Drilling, lab testing, geotechnical engineering, environmental consulting, & COT services for the 100-acre, 1.2 million-SF residential, retail, & commercial development, located at the site of a former sand & gravel mine reclaimed with fly ash.
Site issues encountered included: fly ash fill, loose fly ash, uncontrolled fill, a stump dump, a deep mined hole, a tall retaining wall on uncontrolled fill, an existing deep sewer with poor backfill, and a proposed deep sewer close to a building.