Market - Retail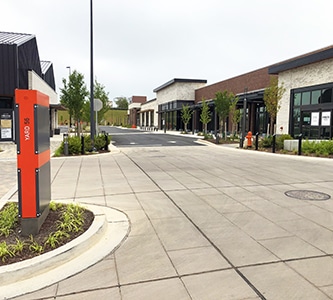 Yard 56, Baltimore City, MD
Geotechnical engineering, environmental consulting, and construction observation and testing services for the 20-acre, award-winning mixed-use redevelopment of the former PEMCO Industrial manufacturing plant to include retail, office, and residential facilities.
GTA worked to develop foundation and earthwork recommendations for structures supported in the native clayey soils, and an up to 40-foot-deep industrial landfill along the western portion of the property.
Named "Best in Real Estate" by Baltimore Business Journal.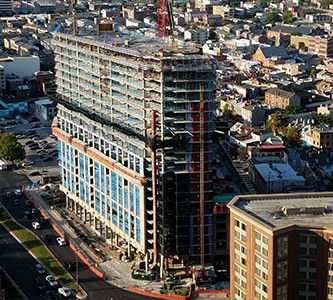 Avalon 555 President, Baltimore City, MD
Geotechnical engineering, environmental consulting, and construction observation and testing services during construction of the foundation of the 23-story, 550,000-SF, 380-unit apartment building with ground level retail space, and seven-story parking garage.
Geotechnical services included design of the drilled pier deep foundation system for the structure. GTA oversaw the installation and performance of over 100 drilled piers ranging from 2.5 to 5-foot diameter, and 50 to 120 feet.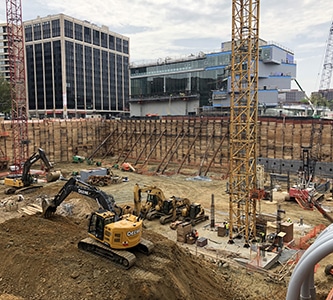 The Highlands, Arlington County, VA
Part of the West Rosslyn Area Plan Study (WRAPS), a County-driven and community-involved redevelopment opportunity.
Geotechnical engineering, environmental consulting, and COT services for the 1,200,000-SF above grade complex with three high-rise towers containing upscale condominium and luxury apartment communities, and ground floor retail. The complex also includes four levels of below grade parking for approximately 1,050 cars.
Village South at Waugh Chapel, Anne Arundel County, MD
Drilling, lab testing, geotechnical engineering, environmental consulting, & COT services for the 100-acre, 1.2 million-SF residential, retail, & commercial development, located at the site of a former sand & gravel mine reclaimed with fly ash.
Site issues encountered included: fly ash fill, loose fly ash, uncontrolled fill, a stump dump, a deep mined hole, a tall retaining wall on uncontrolled fill, an existing deep sewer with poor backfill, and a proposed deep sewer close to a building.
The Residences at Mid-Town Park, City of Wilmington, DE
Subsurface exploration, laboratory testing, geotechnical engineering, and COT services.
Shear wave tests and post construction dewatering recommendations for foundation and pavement design.
417,000-SF, 3 levels of underground parking for 511-cars, requiring excavations of about 32 to 44 feet.
5-story and a 7-story buildings connected by pedestrian bridge, retail, 198 apartment units, elevated courtyard, and resort-style swimming pool.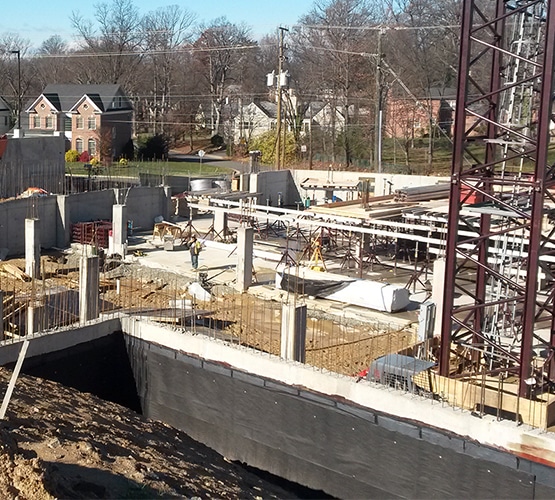 6410 Arlington Boulevard, Falls Church, VA
Geotechnical engineering, retaining wall design, environmental consulting, & COT services for 2 stories of below-grade parking, & 5 stories above-grade w/ apartments, retail, & townhouses.
Obstacles included adjacent parking garage w/ uncertain foundation conditions, adjacent below grade parking garage which could not receive additional lateral loading, existing fill and loose, wet soil conditions.
COT for this project fell under the stringent guidelines of Fairfax County's Special Inspection Program.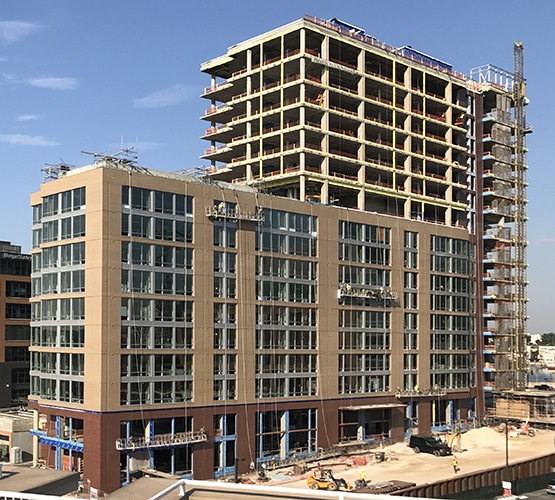 Point Street Apartments, Baltimore City, MD
Geotechnical engineering, environmental consulting, and COT services for the 270,000-SF, 17-story apartment building with a one-level, 40,000-SF below grade parking garage, and 18,000 SF of retail space on the first floor.
The foundations for the project include over 300 driven, environmental concentric closed-end steel pipe piles filled with concrete.
Waugh Chapel South Building 11, Crofton, MD
Three-story steel framed building is situated over controlled fills and native soils at a former sand and gravel mine.
GTA performed design-phase exploration for the building. GTA's exploration included two in-situ dilatometer soundings. The results of the DMT soundings allowed us to significantly increase the allowable bearing pressure that was previously assigned, based on Standard Penetration Test (SPT) data, resulting in reduced footing sizes, and construction cost savings.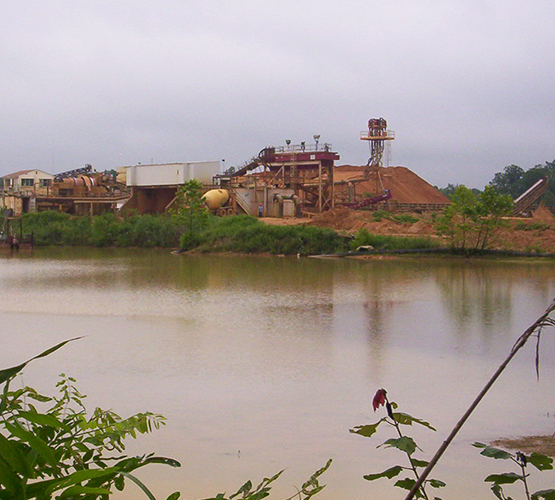 Sand & Gravel Mining Site Potential Redevelopment, Charles County, MD
Planned mixed-use development at the site of an existing sand and gravel mine.
GTA performed a combination of SPT, CPT, and DMT soundings to evaluate the engineering characteristics of the soils and determine their potential impact on development.
GTA worked with the project team to devise several options/methods for construction of structures in areas which are underlain by the wash pond sediments.
Three City Center, Allentown, Lehigh County, PA
Provided geotechnical services to facilitate the design and construction of the 166,000-SF, seven-story office/retail building in downtown Allentown.
GTA was able to provide significant cost-savings through the use of a limited foundation over-excavation/replacement scheme combined with deeper soil improvement/void stabilization through the use of compaction grouting techniques.