Market - Single-Family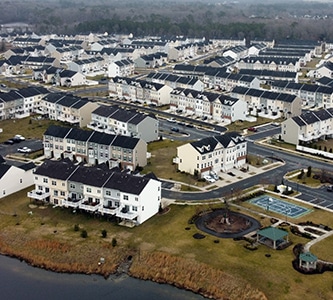 Plantation Lakes, Sussex County, DE
Geotechnical engineering, environmental consulting, wetland delineation, hydrogeologic services, and construction observation and testing services for the 664-acre, 2,510-unit Residential Planned Community (RPC), 18-hole Championship Golf Course, and 22,000-SF award-winning clubhouse
Atwater Village, Chester County, PA
Geotechnical and environmental consulting and COT services for the 147-acre mixed-use development with 549 single, twin, and townhomes, nine apartment buildings, a daycare facility, and four commercial pad sites.
Saved the client an estimated cost of over $2,000,000.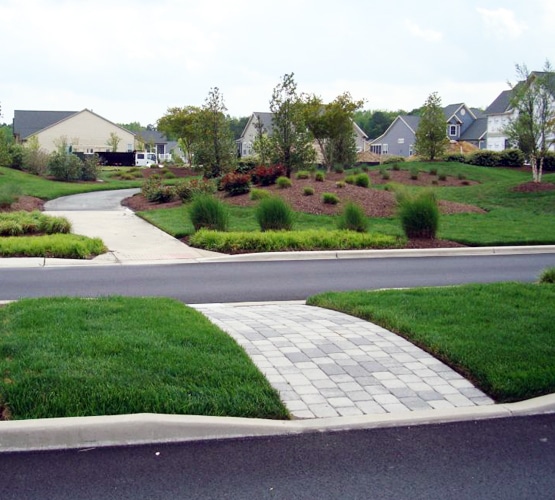 Bay Forest Club, Sussex County, DE
Geotechnical engineering, wetland delineation and permitting, and COT services for the 407-acre Residential Planned Community.
This 913-unit community focuses on environmental protection and enhancement, and was design to preserve over 139 acres (36%) of open space with 90 acres (50%) of the existing forest remaining for trails and passive open space.
The Residences at Bulle Rock, Harford County, MD
Geotechnical engineering, environmental consulting, and COT services for the 977-acre residential development.
Services include testing for mass grading, SWM facilities, subsurface utilities, and monitoring lot fill treated with soil cement.
Inspections of cast-in place concrete, foundations, reinforcing steel as well as structural steel inspections for clubhouse building & water tower.
Observations for construction of a bottomless arch bridge, and construction of a reinforced soil slope and modular block retaining wall.
Named HBA of MD, LDC, Project of the Year.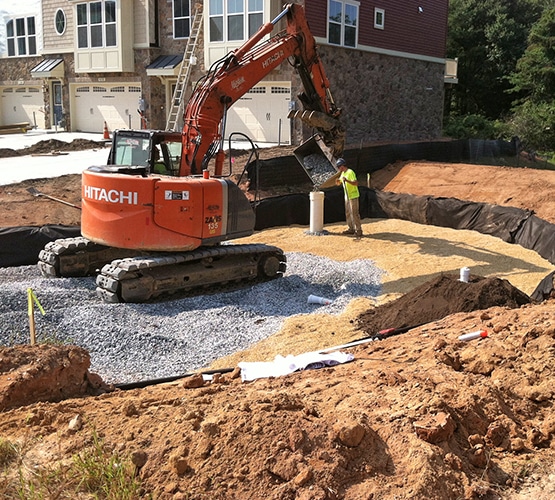 Creekside Village, Anne Arundel County, MD
Geotechnical engineering, environmental consulting, COT services for the 161-acre community with 820 single-family homes and townhome lots, 208 apartment units within six buildings, two clubhouses, & two swimming pools.
Named "Community of the Year," by MBIA Land Development Council.
Received the "Excellence in Construction Award, New Project Over $10 Million," from Baltimore Metro Chapter of the Associated Builders and Contractors, Inc.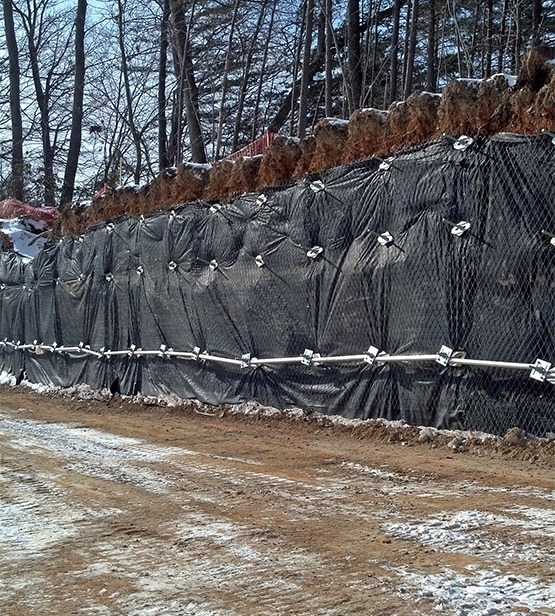 Cardinal Grove Retaining Wall, Prince William County, VA
GTA conducted a geotechnical study, caisson and retaining wall design, and COT services for the 158 SFH development. Evaluated site suitability for development and global stability analysis for several retaining walls and slopes up to 19' high. Due to close vicinity of the property line to the retaining walls, it was determined that soil nail walls with Segmental block facing would be the best fit. Due to the height and complexity, one of the retaining walls was deemed Special Inspections by the County.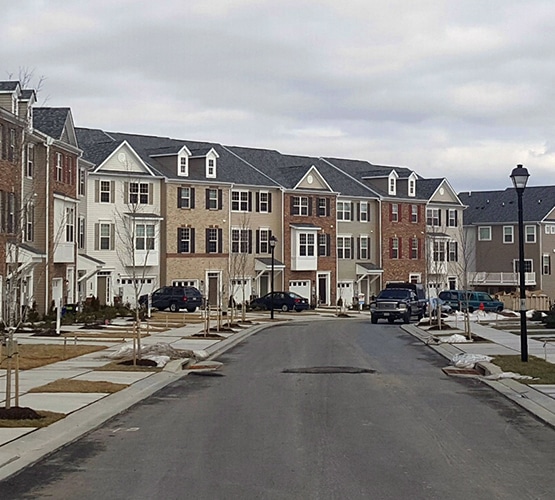 Ballard Green, Baltimore County, MD
The development plan for the 105-acre, 521-home mixed-use community called for depths of fill up to 12-18 feet over portions of existing gas pipelines.
The gas company required detailed evaluation to ensure that the fill loads would not impact the pipelines.
DMT soundings were used to estimate the soil stiffness and resulting settlement beneath each pipeline.
GTA was able to more accurately estimate soil settlements resulting in a less conservative analysis.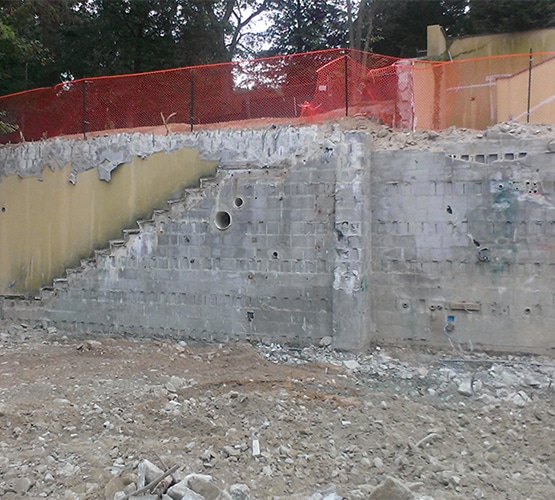 University Terrace, Washington, D.C.
GTA provided value-engineering recommendations for a single-family house to be constructed at the location of a former tennis court and several retaining walls which were to be reused to support the basement walls.
GTA's exploration program included excavator-pushed DMT soundings, performed adjacent to the existing retaining wall concrete footings.
Spread footings were recommended, thus eliminating the need for a specialty foundation system, and saving a significant cost for the project.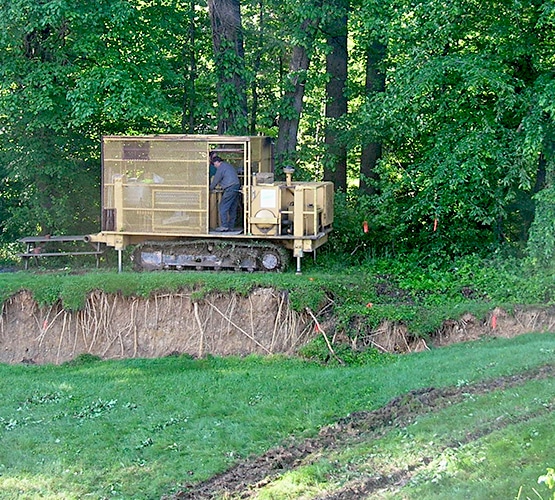 Yorkville Road Slope Failure Evaluation, Prince George's County, MD
CPT services for the emergency in-situ testing to determine the existing condition of, and analyze possible remediation measures for a slope failure approximately 300 yards long by 150 yards wide.
Several homes that were affected by the slope failure were condemned and demolished.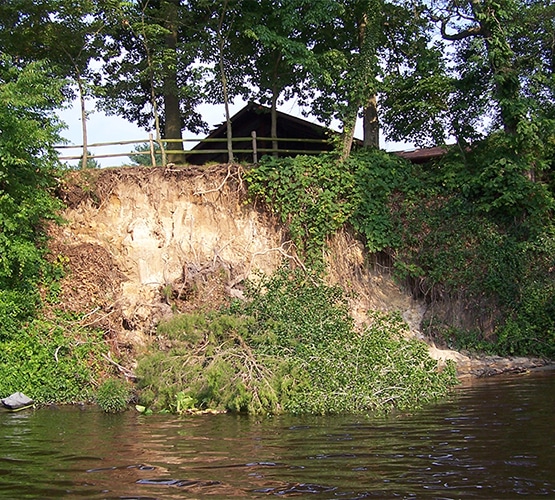 Nanticoke Distressed Slope, Sussex County, DE
Retained to provide geotechnical engineering services for design and construction of slope stabilization measures for a 25-foot-high natural slope on the Nanticoke River.
Evaluation included subsurface explorations, laboratory testing and slope stability analyses to evaluate the landslide.
Assisted with development of plans for increasing the stability of the existing slope including drains to lower the water elevations, and plantings along the face and shoreline toe.