Market - Water & Sewer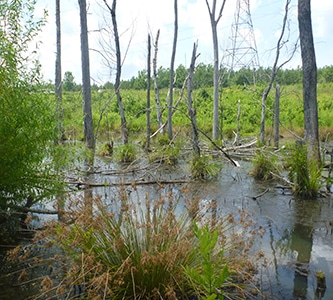 Highway 274 Force Main Replacement, York County, SC
Geotechnical engineering and natural resource services for the replacement and expansion of approximately 7.0 miles of force main.
GTA obtained authorization from the South Carolina Department of Health and Environmental Control to install the utility line beneath state navigable waters.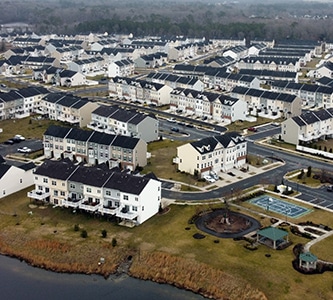 Plantation Lakes, Sussex County, DE
Geotechnical engineering, environmental consulting, wetland delineation, hydrogeologic services, and construction observation and testing services for the 664-acre, 2,510-unit Residential Planned Community (RPC), 18-hole Championship Golf Course, and 22,000-SF award-winning clubhouse
The Residences at Bulle Rock, Harford County, MD
Geotechnical engineering, environmental consulting, and COT services for the 977-acre residential development.
Services include testing for mass grading, SWM facilities, subsurface utilities, and monitoring lot fill treated with soil cement.
Inspections of cast-in place concrete, foundations, reinforcing steel as well as structural steel inspections for clubhouse building & water tower.
Observations for construction of a bottomless arch bridge, and construction of a reinforced soil slope and modular block retaining wall.
Named HBA of MD, LDC, Project of the Year.
Village South at Waugh Chapel, Anne Arundel County, MD
Drilling, lab testing, geotechnical engineering, environmental consulting, & COT services for the 100-acre, 1.2 million-SF residential, retail, & commercial development, located at the site of a former sand & gravel mine reclaimed with fly ash.
Site issues encountered included: fly ash fill, loose fly ash, uncontrolled fill, a stump dump, a deep mined hole, a tall retaining wall on uncontrolled fill, an existing deep sewer with poor backfill, and a proposed deep sewer close to a building.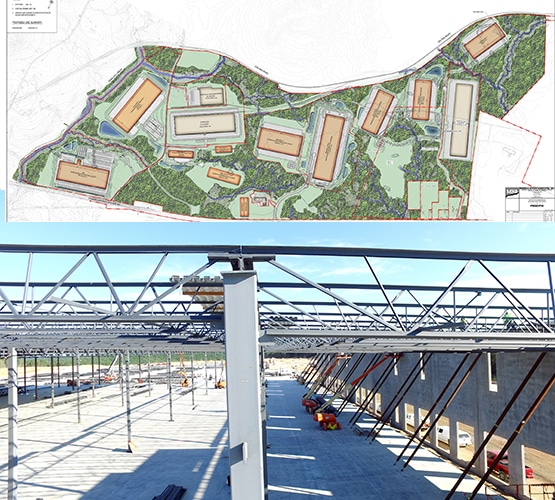 Principio Business Park & Warehouses, Cecil County, MD
GTA provided geotechnical engineering and natural resource planning services in conjunction with the comprehensive master land use plan for large warehouse/distribution (up to 1,500,000 SF in size) and office uses at the 1,000-acre property with rail access and close proximity to I-95.
Also provided geotechnical explorations and recommendations, natural resources planning, environmental consulting, & COT services for several parcels at the business park.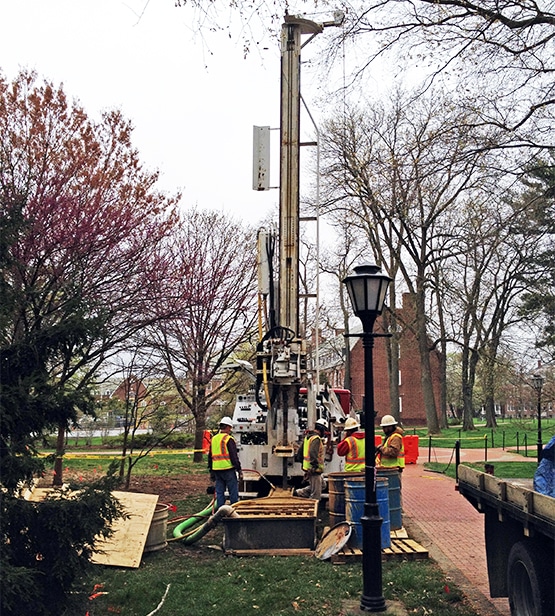 University of Delaware, Campus Utility Plant Supply Well, Newark, DE
Performed exploratory drilling to evaluate the potential for locating a new UDCUP water supply well.
Performed a 48-hour pumping test on the existing UDCUP well to evaluate the potential for increasing the permitted well withdrawal rates.
GTA coordinated efforts with the City of Newark Director of Public Works and DNREC.
GTA prepared a Water Allocation Permit Modification for increased withdrawal based on the results of our evaluation.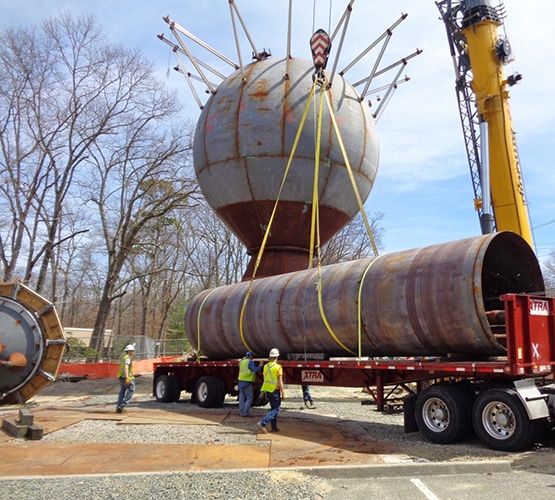 Naval Weapons Station Earle, Water Storage Tank Replacement, Monmouth County, NJ
COT services for the 275' tall, 0.15 MG structure including steel driven pile installation operations; load tests; data collection including type & size of drill rig, pile hammer, rate of penetration, type & dimensions of the piles, tip depth below the ground surface; observation of reinforcing steel & observation & sampling of cast-in-place concrete for foundation; subgrade preparation; structural fill; backfill placement; utility backfill; and pavement COT services.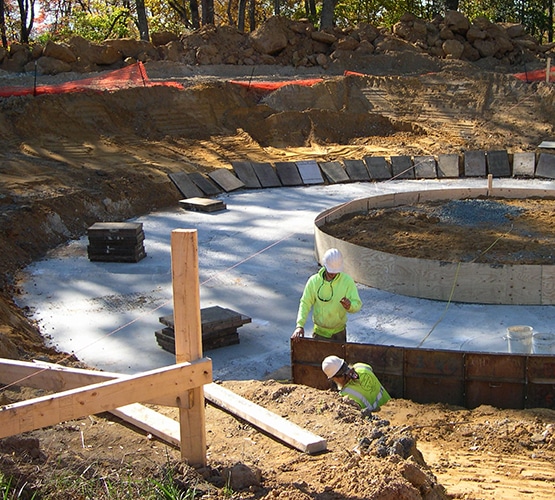 Two Rivers PUD, 1.0 MG Water Tank, Anne Arundel County, MD
Geotechnical exploration and report, wetland delineation and permitting, and COT services for the water tank's foundation including observing the installation of 92 aggregate piers, and concrete testing for the ring wall and 40-ft diameter concrete shaft.
Part of Two Rivers planned unit development, in Odenton, which will ultimately include a mixture of over 2,000 villas and single-family patio homes.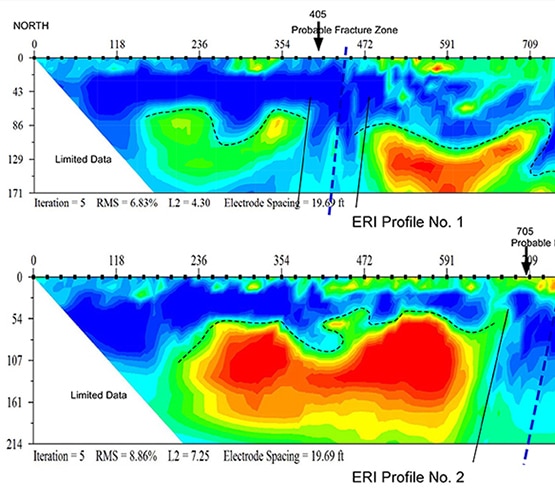 Baldwin Station Geophysics & Hydrogeologic Services, Elkton, MD
Provided remote sensing, geophysics, & hydrogeologic services to evaluate & select locations for groundwater production well drilling.
GTA performed fracture trace analysis of the site vicinity, and electrical resistivity and VLF surveys.
Data was analyzed. Zones that were identified were selected for future test well drilling.
Analysis of subsurface conditions extending downward to 200 feet or more below existing ground surface.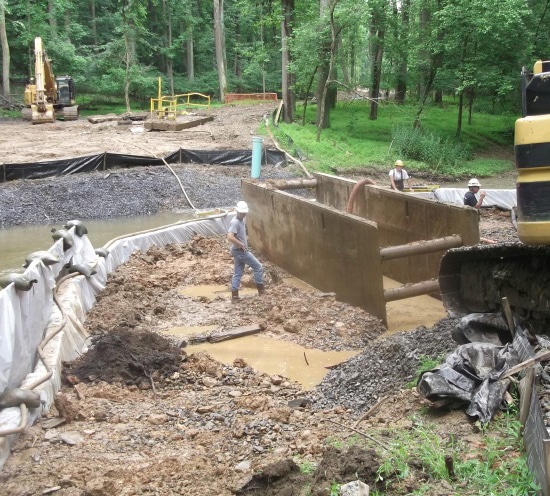 Bush Creek 6.5-Mile Sewer Installation, Frederick County, MD
Third party utility inspections for installation of over six miles of off-site gravity sewer along the Bush Creek River, including 1.78 acres of emergent wetlands to forested wetland.
Over a dozen stream crossings and 3 borings below existing railroad tracks.
Density testing of the utility trench backfill and weekly sediment and erosion control inspections in compliance with MDE's 2011 Standards and Specifications for Soil Erosion and Sediment Control.