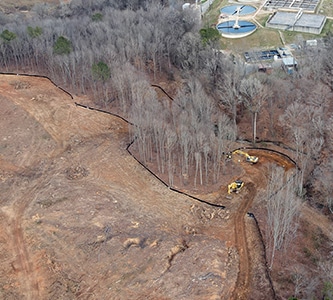 Wastewater Treatment Plant Equalization Basin, City of Monroe, NC
New 15-million-gallon earthen equalization basin on a 25-acre site to the west of the existing City of Monroe Wastewater Treatment Plant (WWTP), plus 36-inch force main approximately 600 linear feet into the basin and a 24-inch return line of approximately 250 linear feet.
Geotechnical engineering including slope stability analysis, and construction observation and testing services.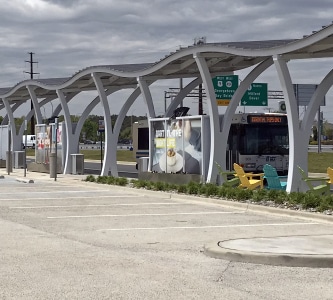 Lewes Transit Center, Park & Ride, Sussex County, DE
Largest public sector pervious pavement project in Delaware.
Construction observation and testing services during all three construction phases.
GTA's National Ready Mixed Concrete Association (NRMCA) and American Concrete Institute (ACI) certified staff provided the quality control services.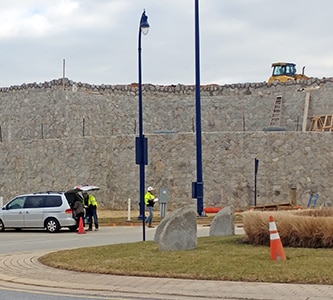 The Uplands Retaining Walls, Prince George's County, MD
Subsurface exploration, laboratory testing, geotechnical analysis, retaining wall design, and construction observation and testing services for the Uplands' site at National Harbor.
Designed a two-tier and a three-tier gravity retaining wall. The lowest tier's maximum height is 16 feet high. The middle tier has a maximum height of 10 feet. The upper tier has a maximum height of 6 feet high.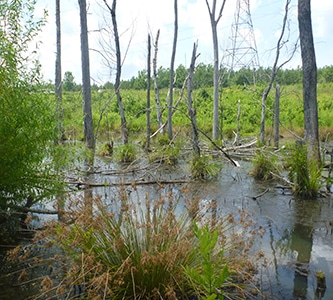 Highway 274 Force Main Replacement, York County, SC
Geotechnical engineering and natural resource services for the replacement and expansion of approximately 7.0 miles of force main.
GTA obtained authorization from the South Carolina Department of Health and Environmental Control to install the utility line beneath state navigable waters.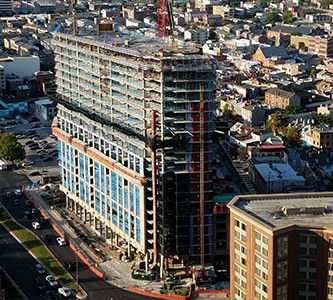 Avalon 555 President, Baltimore City, MD
Geotechnical engineering, environmental consulting, and construction observation and testing services during construction of the foundation of the 23-story, 550,000-SF, 380-unit apartment building with ground level retail space, and seven-story parking garage.
Geotechnical services included design of the drilled pier deep foundation system for the structure. GTA oversaw the installation and performance of over 100 drilled piers ranging from 2.5 to 5-foot diameter, and 50 to 120 feet.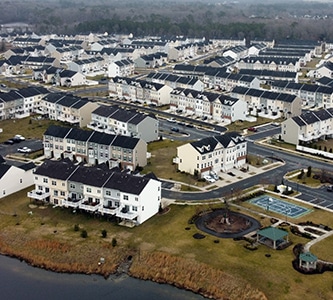 Plantation Lakes, Sussex County, DE
Geotechnical engineering, environmental consulting, wetland delineation, hydrogeologic services, and construction observation and testing services for the 664-acre, 2,510-unit Residential Planned Community (RPC), 18-hole Championship Golf Course, and 22,000-SF award-winning clubhouse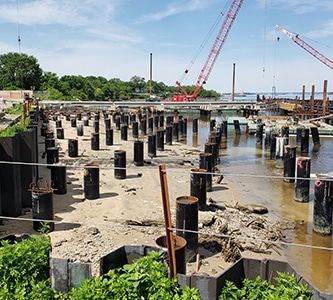 Paulsboro Marine Terminal Phase 2, Gloucester, NJ
Two new deep-water berths totaling over 1,500 linear feet of wharf face along the Delaware River and one 500-foot barge berth on Mantua Creek.
Quality control and observation and testing of site work, pile installation, reinforcing steel, cast-in-place concrete, post installed anchors, pre-cast concrete, and structural steel; laboratory testing; and engineering supervision and consultation.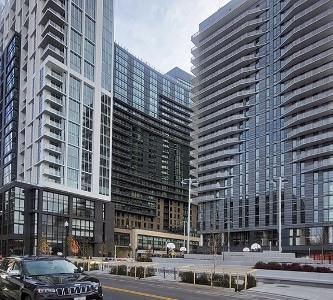 The Highlands, Arlington County, VA
Part of the West Rosslyn Area Plan Study (WRAPS), a County-driven and community-involved redevelopment opportunity.
Geotechnical engineering, environmental consulting, and COT services for the 1,200,000-SF above grade complex with three high-rise towers containing upscale condominium and luxury apartment communities, and ground floor retail. The complex also includes four levels of below grade parking for approximately 1,050 cars.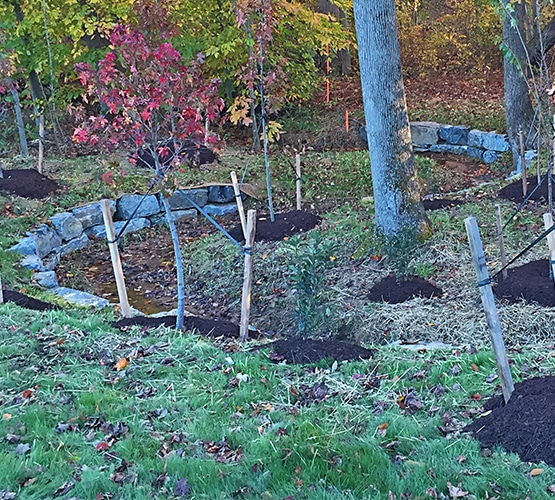 Bel Air Auto Auction Stream Restoration Project, Harford County, MD
Stream restoration design, construction observation and project management for a 75-foot section of severely degraded and eroded channel that flows into the preserved wetland area.
State and federal wetland permits for permanent impacts to intermittent streams from development of the 175-acre Riverside East Business Park property.
Grading and the installation of imbricated rip-rap toe rock around two eroded stream bends to minimize further scouring and erosion during storm events.
The Residences at Bulle Rock, Harford County, MD
Geotechnical engineering, environmental consulting, and COT services for the 977-acre residential development.
Services include testing for mass grading, SWM facilities, subsurface utilities, and monitoring lot fill treated with soil cement.
Inspections of cast-in place concrete, foundations, reinforcing steel as well as structural steel inspections for clubhouse building & water tower.
Observations for construction of a bottomless arch bridge, and construction of a reinforced soil slope and modular block retaining wall.
Named HBA of MD, LDC, Project of the Year.
Village South at Waugh Chapel, Anne Arundel County, MD
Drilling, lab testing, geotechnical engineering, environmental consulting, & COT services for the 100-acre, 1.2 million-SF residential, retail, & commercial development, located at the site of a former sand & gravel mine reclaimed with fly ash.
Site issues encountered included: fly ash fill, loose fly ash, uncontrolled fill, a stump dump, a deep mined hole, a tall retaining wall on uncontrolled fill, an existing deep sewer with poor backfill, and a proposed deep sewer close to a building.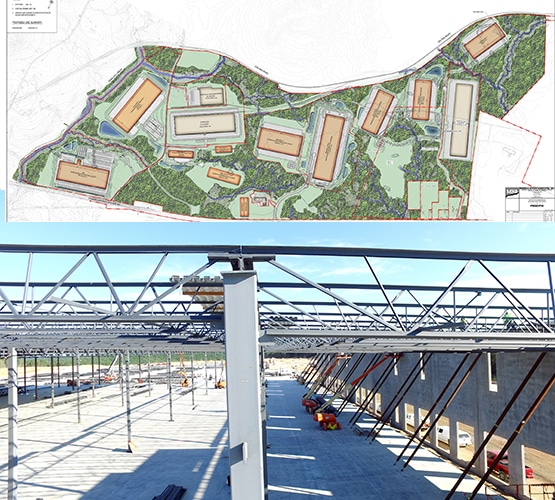 Principio Business Park & Warehouses, Cecil County, MD
GTA provided geotechnical engineering and natural resource planning services in conjunction with the comprehensive master land use plan for large warehouse/distribution (up to 1,500,000 SF in size) and office uses at the 1,000-acre property with rail access and close proximity to I-95.
Also provided geotechnical explorations and recommendations, natural resources planning, environmental consulting, & COT services for several parcels at the business park.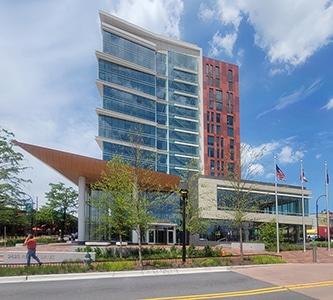 M-NCPPC Wheaton Headquarters, Montgomery County, MD
Environmental & geotechnical consulting during design, and environmental services during site excavation & construction.
$170 million, 308,000-SF office building with a 4-story underground parking garage, 1st floor retail, 14-stories of office space, Town Square, and transit connection.
USGBC LEED Platinum certified.
A geothermal heating/cooling system was installed beneath the parking garage; this is one of the first such applications in MD.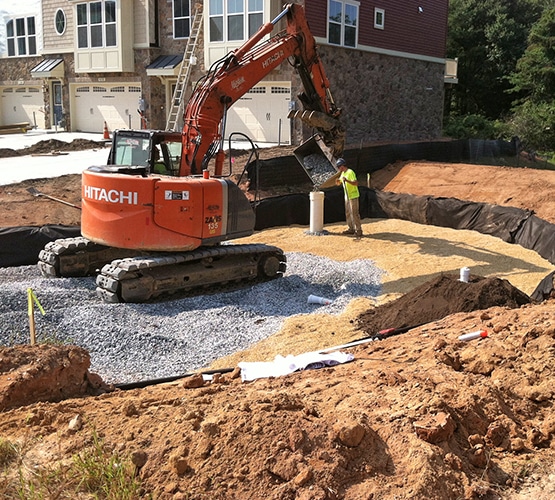 Creekside Village, Anne Arundel County, MD
Geotechnical engineering, environmental consulting, COT services for the 161-acre community with 820 single-family homes and townhome lots, 208 apartment units within six buildings, two clubhouses, & two swimming pools.
Named "Community of the Year," by MBIA Land Development Council.
Received the "Excellence in Construction Award, New Project Over $10 Million," from Baltimore Metro Chapter of the Associated Builders and Contractors, Inc.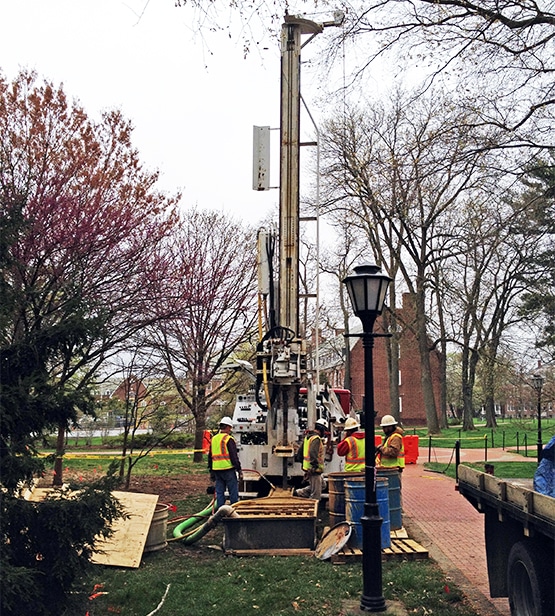 University of Delaware, Campus Utility Plant Supply Well, Newark, DE
Performed exploratory drilling to evaluate the potential for locating a new UDCUP water supply well.
Performed a 48-hour pumping test on the existing UDCUP well to evaluate the potential for increasing the permitted well withdrawal rates.
GTA coordinated efforts with the City of Newark Director of Public Works and DNREC.
GTA prepared a Water Allocation Permit Modification for increased withdrawal based on the results of our evaluation.
The Residences at Mid-Town Park, City of Wilmington, DE
Subsurface exploration, laboratory testing, geotechnical engineering, and COT services.
Shear wave tests and post construction dewatering recommendations for foundation and pavement design.
417,000-SF, 3 levels of underground parking for 511-cars, requiring excavations of about 32 to 44 feet.
5-story and a 7-story buildings connected by pedestrian bridge, retail, 198 apartment units, elevated courtyard, and resort-style swimming pool.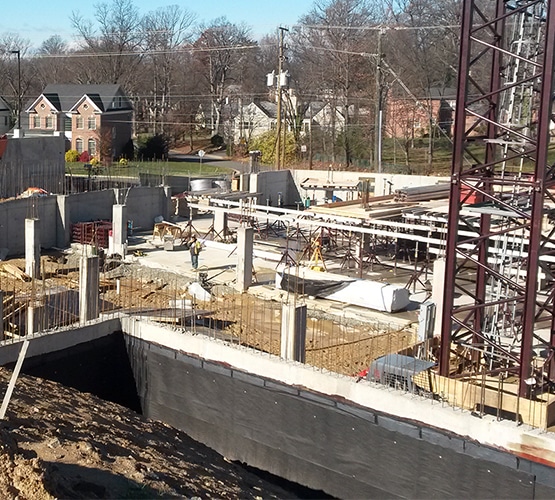 6410 Arlington Boulevard, Falls Church, VA
Geotechnical engineering, retaining wall design, environmental consulting, & COT services for 2 stories of below-grade parking, & 5 stories above-grade w/ apartments, retail, & townhouses.
Obstacles included adjacent parking garage w/ uncertain foundation conditions, adjacent below grade parking garage which could not receive additional lateral loading, existing fill and loose, wet soil conditions.
COT for this project fell under the stringent guidelines of Fairfax County's Special Inspection Program.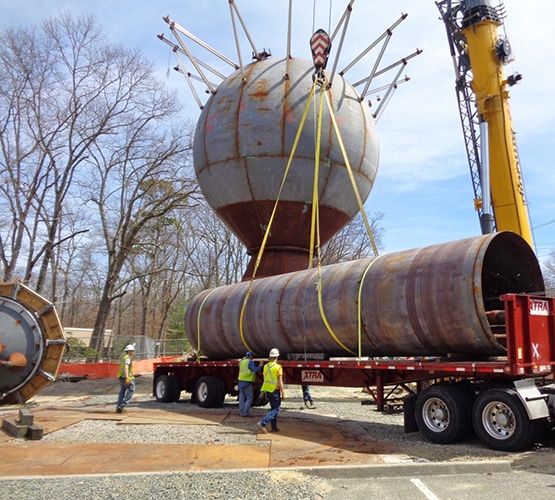 Naval Weapons Station Earle, Water Storage Tank Replacement, Monmouth County, NJ
COT services for the 275' tall, 0.15 MG structure including steel driven pile installation operations; load tests; data collection including type & size of drill rig, pile hammer, rate of penetration, type & dimensions of the piles, tip depth below the ground surface; observation of reinforcing steel & observation & sampling of cast-in-place concrete for foundation; subgrade preparation; structural fill; backfill placement; utility backfill; and pavement COT services.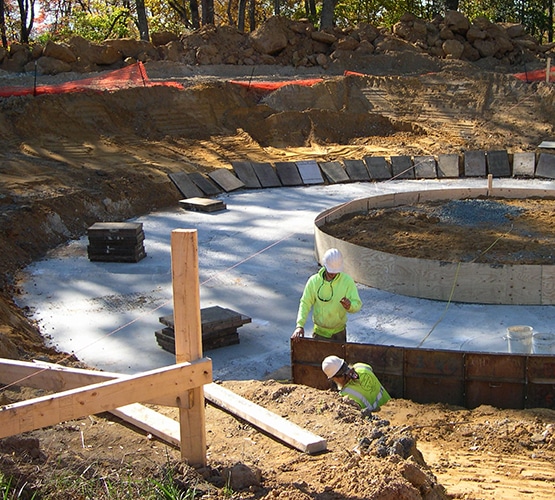 Two Rivers PUD, 1.0 MG Water Tank, Anne Arundel County, MD
Geotechnical exploration and report, wetland delineation and permitting, and COT services for the water tank's foundation including observing the installation of 92 aggregate piers, and concrete testing for the ring wall and 40-ft diameter concrete shaft.
Part of Two Rivers planned unit development, in Odenton, which will ultimately include a mixture of over 2,000 villas and single-family patio homes.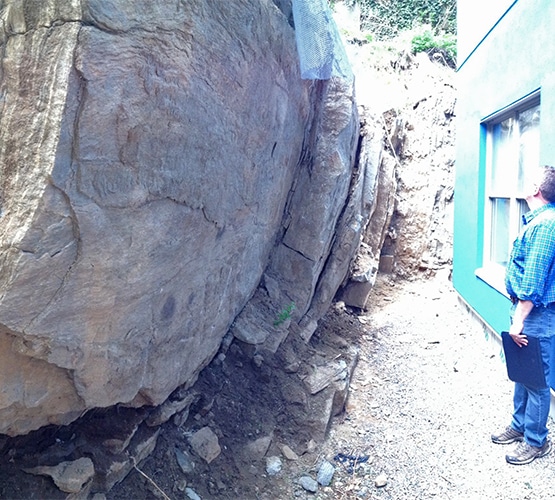 Charter School Revetment Wall, Bronx, NY
An exposed rock outcrop was located 3-5' from the rear of the existing school. Water had infiltrated the joints in the bedrock and subsequent freeze-thaw cycles had caused the joints to open. The orientation of the joints in the bedrock had created a toppling hazard. GTA-NY evaluated the rock conditions and developed plans for a reinforced concrete revetment wall. GTA-NY then oversaw the hand excavation of the bedrock and construction of the concrete revetment wall.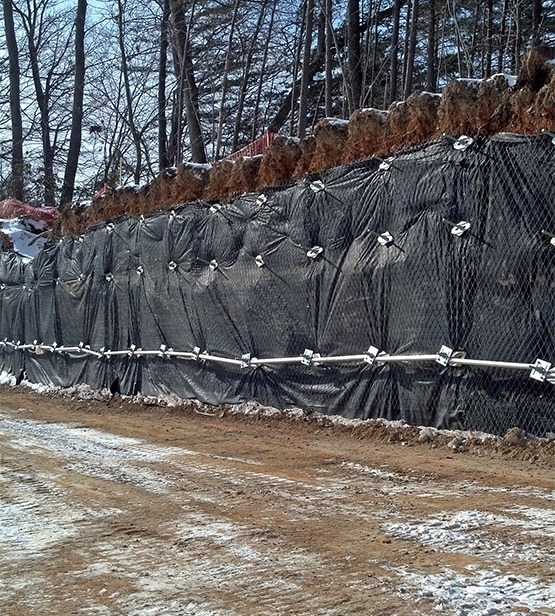 Cardinal Grove Retaining Wall, Prince William County, VA
GTA conducted a geotechnical study, caisson and retaining wall design, and COT services for the 158 SFH development. Evaluated site suitability for development and global stability analysis for several retaining walls and slopes up to 19' high. Due to close vicinity of the property line to the retaining walls, it was determined that soil nail walls with Segmental block facing would be the best fit. Due to the height and complexity, one of the retaining walls was deemed Special Inspections by the County.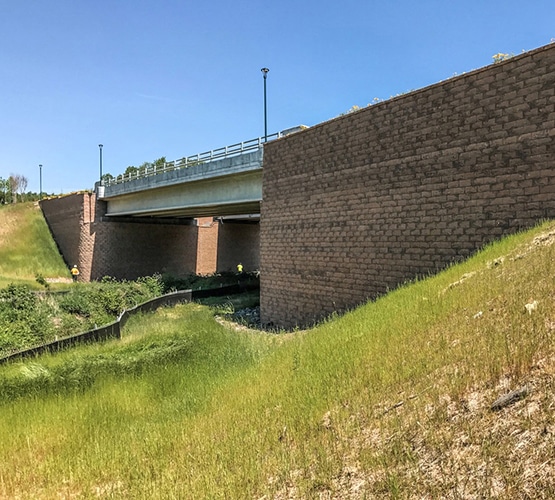 Mine Road Bridge, Stafford County, VA
Designed abutments and wingwalls for a Geosynthetic Reinforced Soil – Integrated Bridge System (GRS-IBS) for the 120-LF bridge.
Bridge abutments were 30′ tall & able to be supported on shallow foundations despite low allowable soil pressure.
The GRS-IBS wall system eliminated the need for deep foundations or a multi-span bridge. This solution accelerated bridge construction and minimized earthwork, wetland impact, construction cost and life-cycle cost.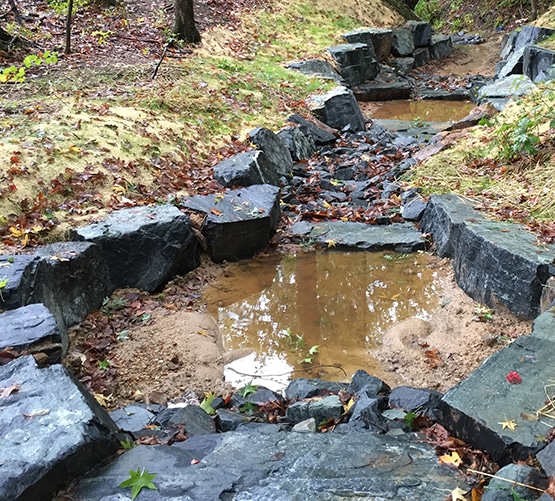 Rogers Ford Stream Restoration, Joppa, MD
GTA provided construction observation services of the stream mitigation, which consisted of restoration of approximately 360 feet of a severely degraded tributary to Foster Branch.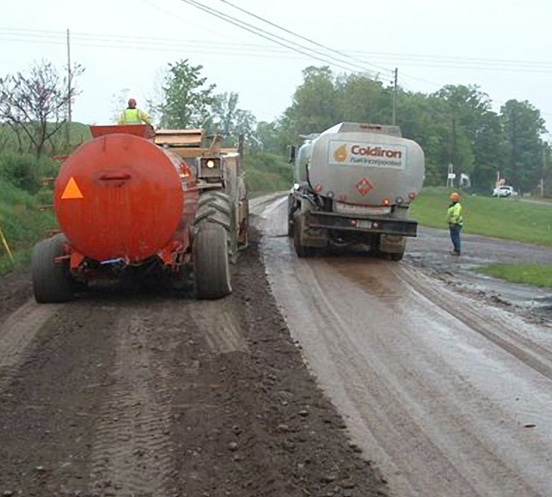 Marcellus Shale, FDR Design, PA & WV
Provided design for upgrade and/or reconstruction of approximately 57 different paved and unpaved state, county, and municipal owned public roadways in Pennsylvania that were damaged by Marcellus/Utica Shale related drilling traffic.
Provided design for seven dirt and gravel roads, totaling 27 miles, through the Allegheny National Forest that will be subjected to heavy traffic from oil and gas drilling.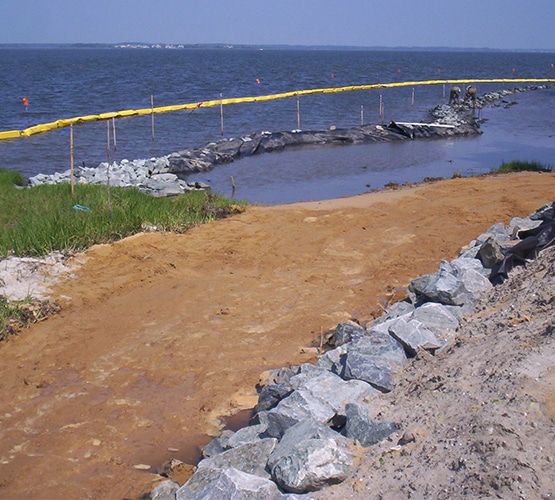 Shoreline Restoration at Sunset Island, Ocean City, MD
GTA provided construction observation, material testing, and annual monitoring services for this "Living Shoreline" restoration project including marsh plantings, sills, groins and jetties at Ocean City's Sunset Island.
In addition to the removal of a rubble-filled shoreline, mitigation measures included the complete removal of invasive common reed (Phragmites australis).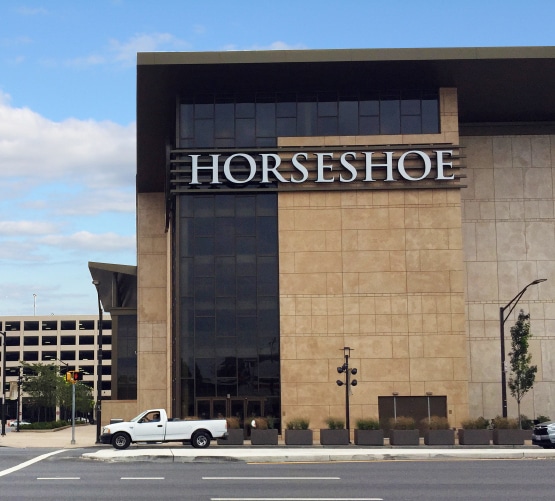 Horseshoe Casino, Baltimore City, MD
Geophysical testing, geotechnical and environmental consulting for new two-story 140,000-SF casino and associated seven-level, 3,500-car, above grade parking garage.
Relatively deep layer of fills and soft clayey soils required use of deep foundations. Subsurface explorations were in excess of 90 feet, where rock cores were obtained.
Observed & evaluated several static & dynamic load tests on CFAs to develop installation criteria and allowable loads for CFAs of different diameters.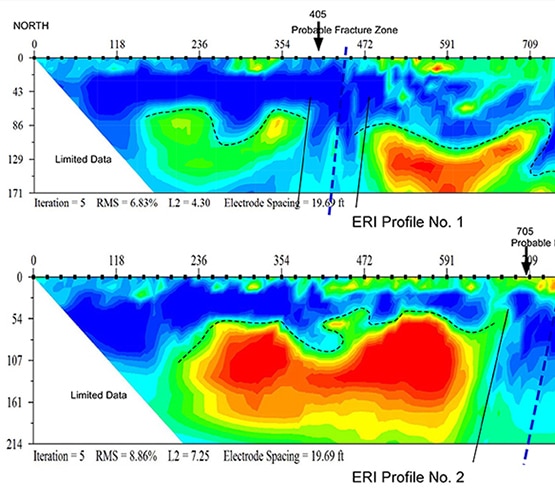 Baldwin Station Geophysics & Hydrogeologic Services, Elkton, MD
Provided remote sensing, geophysics, & hydrogeologic services to evaluate & select locations for groundwater production well drilling.
GTA performed fracture trace analysis of the site vicinity, and electrical resistivity and VLF surveys.
Data was analyzed. Zones that were identified were selected for future test well drilling.
Analysis of subsurface conditions extending downward to 200 feet or more below existing ground surface.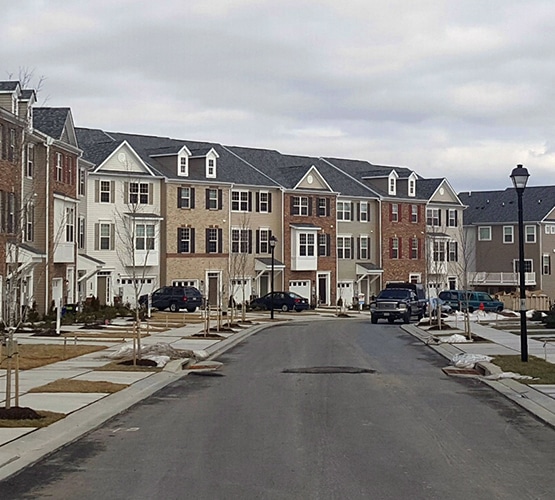 Ballard Green, Baltimore County, MD
The development plan for the 105-acre, 521-home mixed-use community called for depths of fill up to 12-18 feet over portions of existing gas pipelines.
The gas company required detailed evaluation to ensure that the fill loads would not impact the pipelines.
DMT soundings were used to estimate the soil stiffness and resulting settlement beneath each pipeline.
GTA was able to more accurately estimate soil settlements resulting in a less conservative analysis.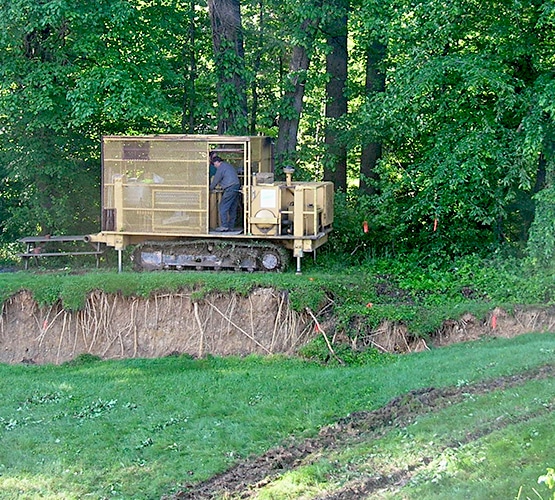 Yorkville Road Slope Failure Evaluation, Prince George's County, MD
CPT services for the emergency in-situ testing to determine the existing condition of, and analyze possible remediation measures for a slope failure approximately 300 yards long by 150 yards wide.
Several homes that were affected by the slope failure were condemned and demolished.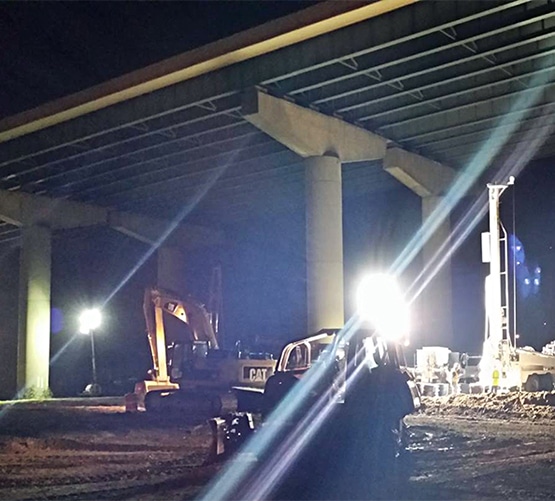 I-495 Emergency Bridge Repairs, Wilmington, DE
Provided emergency response and corrective action services including subsurface exploration and geotechnical engineering services to repair BR1-183 on I-495 over Christina River.
Performed 12 CPT soundings with pore pressure dissipation tests.
Monitored pore pressure through monitoring wells, pressure transducers and vibrating wire piezometers for approximately 12 months.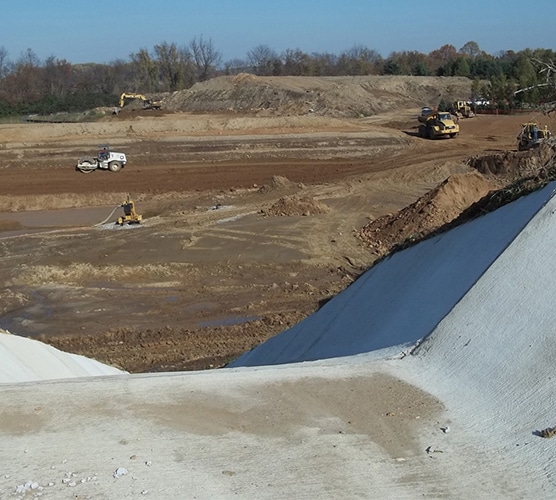 Wilmington Country Club Water Impoundment Structure, Wilmington, DE
Provided geotechnical engineering for the 21-million-gallon water impoundment structure at Wilmington Country Club.
Services included subsurface exploration and well installation, groundwater monitoring, slope stability and seepage analysis, and earthwork recommendations during design and review of the earthwork and engineering consultation during construction.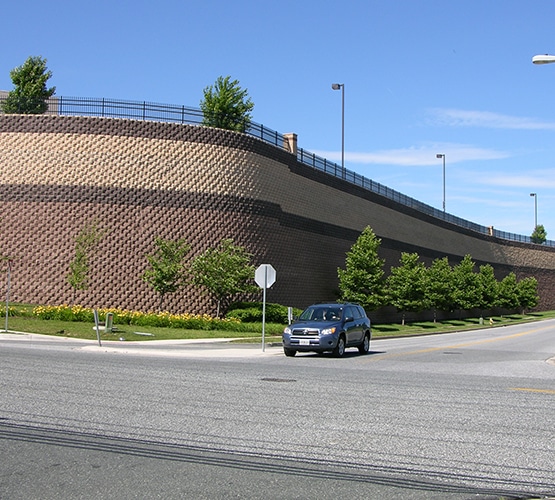 Retaining Wall at Box Hill, Harford County, MD
Designed a 40,300-sf modular block retaining wall with final dimensions of over 1,340 feet long with a maximum exposed height of over 40 feet.
Design included both internal and global stability analyses to assess the long-term stability of the fill and underlying Potomac Clay deposit.
Drainage pipes at the base of the wall and behind the reinforced fill are interconnected and drain beneath the wall directly into the public storm drain system.
Provided COT services.
Lancaster Newspaper Parking Structure, Lancaster, PA
Provided geotechnical services for the construction of a six-level precast concrete parking structure.
Designed a permanent shoring system that would also function as a permanent pressure relief wall which included a soldier pile wall with shotcrete lagging and a soil nail wall with shotcrete facing.
Designed the micropile system to support the proposed garage footings on the underlying limestone bedrock.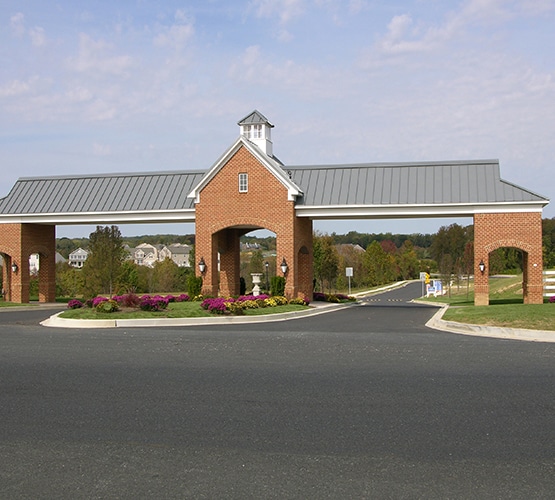 Trails at Beech Creek, Harford County, MD
Geotechnical, environmental, and COTS services for a 349 single-family and 397 townhome subdivision on a former 300-acre golf course.
Wetland delineation, GPS location of wetland boundary, rare, threatened, and endangered species consultation, wetland permitting, and stream mitigation design services. Managed permitting for the wetland impacts including three road crossings, site grading, utility line crossings of streams and wetlands, and stormwater management pond outfalls.
Full-Depth Road Reclamation Design, OH, PA, & WV
Provided design for reconstruction of over 750 miles of paved state, county, & municipal owned public roadways in Ohio, Pennsylvania, & West Virginia that were damaged by Marcellus/Utica Shale related drilling traffic.
Performed initial evaluations of pavement condition and distress, plus test pit explorations to evaluate the pavement section and subgrade conditions.
Designed specialty slope & wall stability systems to support areas of slope instability affecting public roads.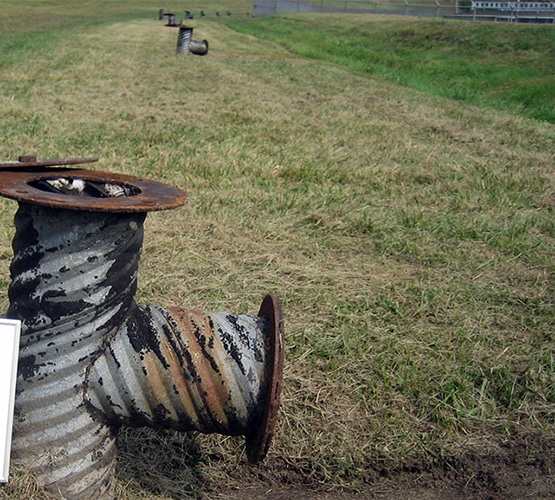 Wyoming Valley Relief Well Pump Testing, Luzerne County, PA
GTA performed inspection and testing of 123 relief wells located on the flood control levees along the Susquehanna River.
Provided visual wellhead inspections and conducted pumping tests at 121 wells.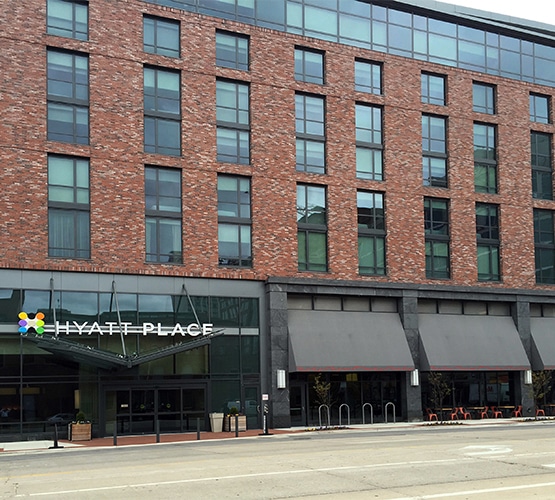 Hyatt Place, Baltimore City, MD
A 150,000-SF, 208-room hotel with ground floor retail space and a parking garage
Performed Phase I and Phase II Environmental Site Assessments finding elevated concentrations of total arsenic and lead concentrations, polycyclic aromatic hydrocarbons (PAHs) and hexavalent chromium in soil
Approved as part of Maryland Voluntary Cleanup Program.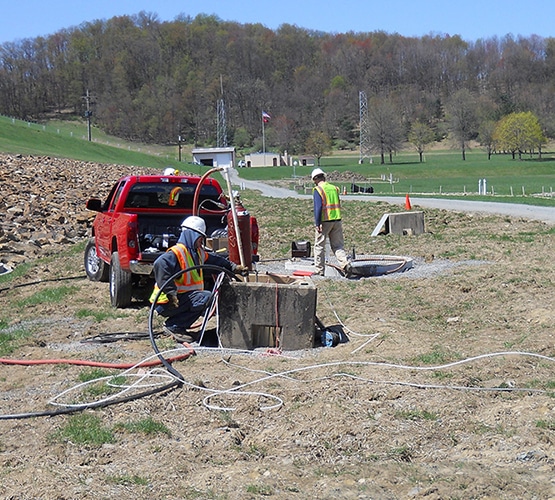 Curwensville Dam Relief Wells, Curwensville, PA
GTA managed inspection, cleaning, and performance evaluation of 14 shallow overburden relief wells and 20 deep rock relief wells located at the downstream toe of the Curwensville Dam which are designed to relieve hydrostatic pressure at the base of the dam.
Services included wellhead inspection, well flushing, video inspection, capacity testing of 4 shallow wells and 2 deep wells, recharge testing of 34 relief wells, and 8-hour pump testing of 4 relief wells.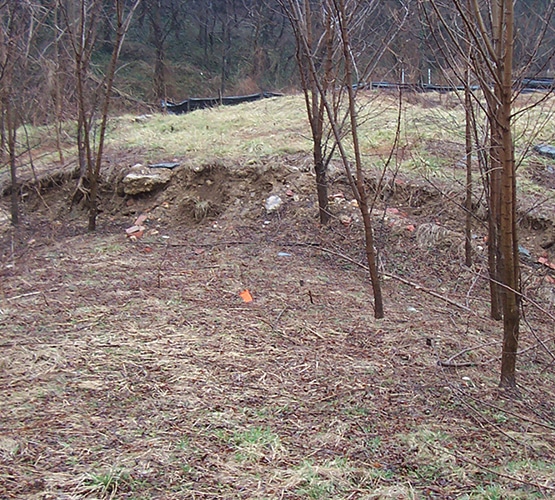 Beaver Heights Slope Evaluation, Prince George's County, MD
GTA was the expert witness to evaluate the movement of a steep fill slope impacting an existing WMATA railroad rack and bridge abutment over native marine clays.
SPT borings were drilled to depths of 100 feet to sample the soil conditions and install inclinometers and piezometers to monitor slope movement and water level fluctuations.
li> Direct and torsional shear tests were performed to support stability analysis.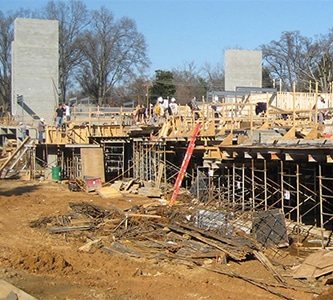 Tranquil Court, Charlotte, NC
Development included a 4-story 104-unit condominium building and a 5-story, 62,000-sf retail and office building situated above a 1-story parking structure.
GTA Associates, Inc.'s services included construction observation and testing of structural fills, concrete foundation and slabs, structural steel, masonry, asphalt, and a 6,500-sf soil nail wall.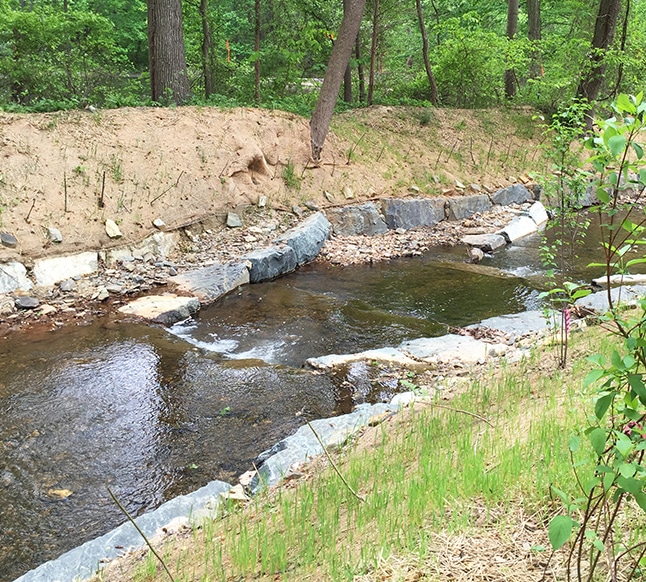 Mill Creek Stream Restoration, Cecil County, MD
Stream restoration design, construction observation and management for a 940-foot section of severely degraded and eroded channel.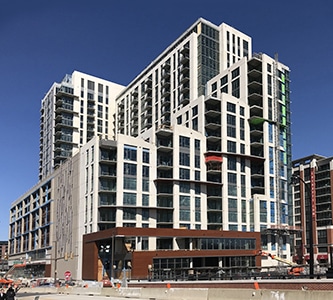 Liberty Harbor East, Baltimore City, MD
Geotechnical and environmental consulting for the 23-story, 750,000-SF, mixed-use building with apartments, condominiums, retail, and parking.
COT services and environmental consulting during construction of building's foundation.
Instrumentation and monitoring plan to monitor settlement of a century old brick-lined stormwater tunnel supported on timber piles, located less than 10 feet from the proposed 3- to 6-foot diameter caissons.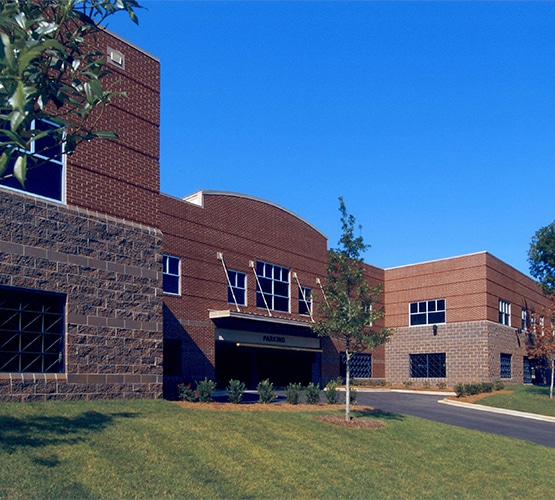 Abbey Place Medical Office Building, Charlotte, NC
GTA Associates, Inc. provided construction observation and testing services for this two-story medical office building with a below grade parking garage.
Inspection of spread footings, rock quantifications, structural concrete testing, masonry inspection, and asphalt testing.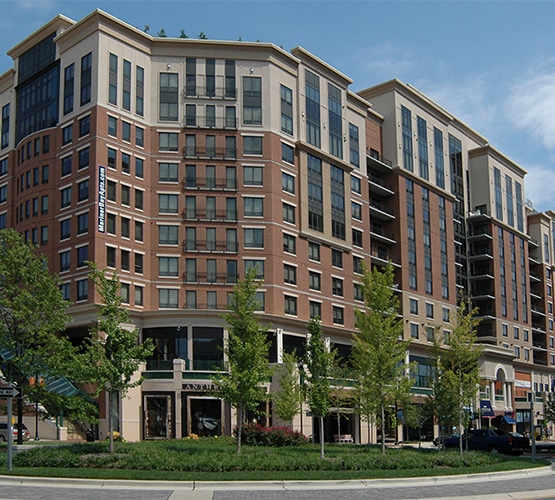 Mariner Bay at Annapolis Towne Centre, Building 2, Anne Arundel County, MD
Subsurface explorations including SPT borings, seismic Cone Penetration Test soundings, and test pits.
12-story mixed-use facility including 208 luxury apartments, 95,000 SF of retail, and 1,000-car parking structure.
The seismic CPT soundings allowed GTA to improve the seismic site class for the site resulting in a cost-effective structural design.
Construction phase observation and testing services.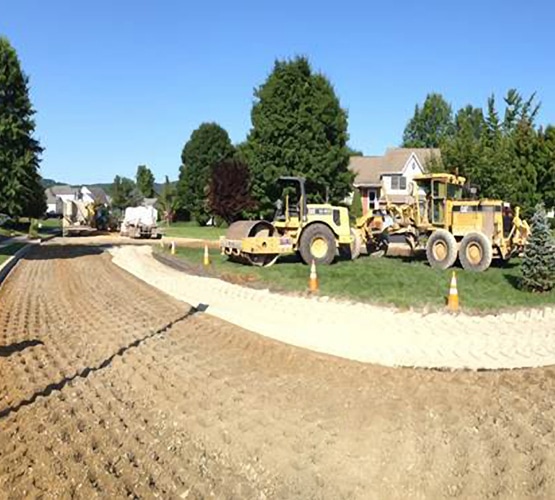 Master Service Contracts for FDR Laboratory Testing, PA, WV, OH
Full depth reclamation (FDR) mix design testing for over 700 miles of roadways in PA, WV, and OH for the oil and gas industry.
The FDR process involves pulverizing the existing asphalt, aggregate base and subgrade soils and mixing them with cement and water to create a new subbase layer that will support the new asphalt pavement. This "green" process produces very little waste and is often more economical than conventional pavement replacement methods.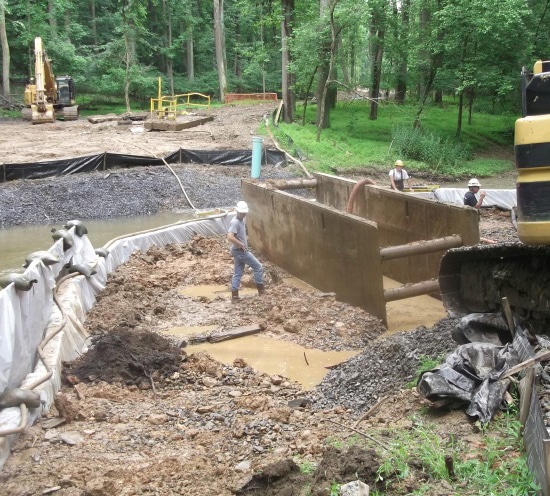 Bush Creek 6.5-Mile Sewer Installation, Frederick County, MD
Third party utility inspections for installation of over six miles of off-site gravity sewer along the Bush Creek River, including 1.78 acres of emergent wetlands to forested wetland.
Over a dozen stream crossings and 3 borings below existing railroad tracks.
Density testing of the utility trench backfill and weekly sediment and erosion control inspections in compliance with MDE's 2011 Standards and Specifications for Soil Erosion and Sediment Control.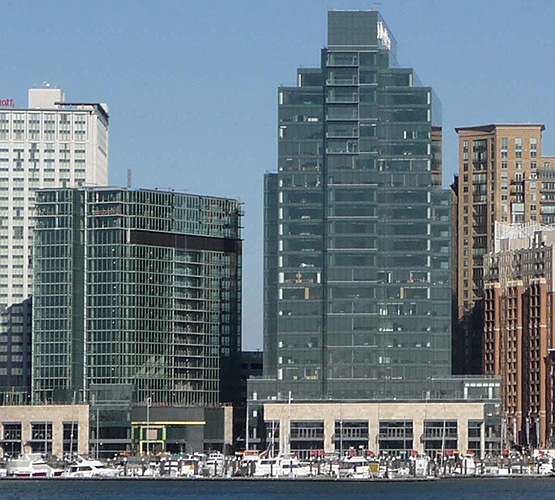 Four Seasons Hotel & Legg Mason Office Complex, Baltimore City, MD
22-Story luxury hotel and condominium tower and a 26-story office tower at Baltimore's waterfront with 5-story below grade parking.
Construction observation and testing included a slurry wall, mat foundation, post-tensioned concrete, micro-piles, caissons, and tie-back anchors.
Geotechnical, environmental, and hydrogeological services including borings, monitoring wells, seismic analysis, and in-situ permeability testing.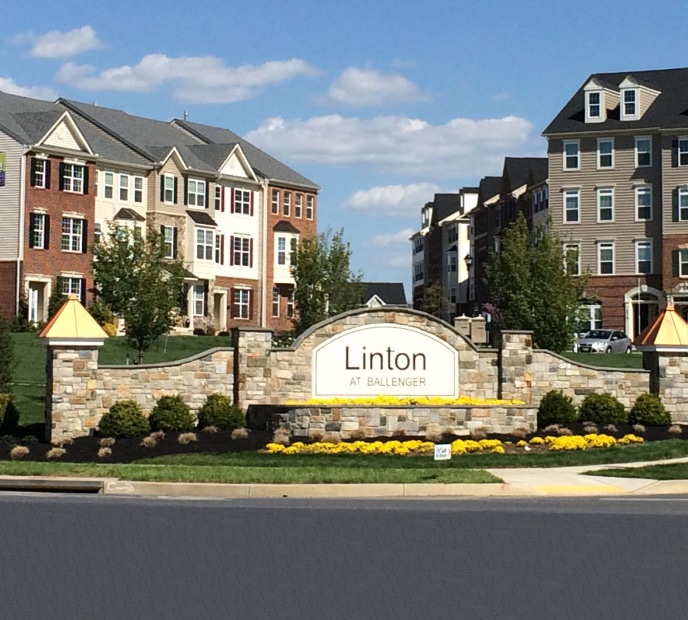 Residential Communities Third Party Inspection Services, Frederick County, MD
Third party utility inspection services consist of verification of construction materials and their installation in accordance with the plans and specifications.
GTA witnesses deflection, pressure, and vacuum testing, and well as TV inspection and a video review of installed sewer lines.
Waterline testing services include witnessing chlorination, bacteria sample collection and hydrostatic testing.