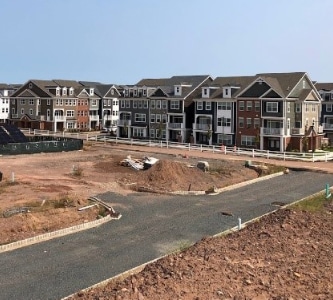 Ewing Town Center, Mercer County, NJ
The new Ewing Town Center is planned to include 1,184 residential rental units, 94,750 SF of retail, 14,375 SF of offices, and a 10,000-SF clubhouse.
GTA provided environmental consulting and Third Party Special Inspections during construction to help transform an 80-acre former industrial site in Ewing, NJ into a thriving mixed-use residential and commercial community.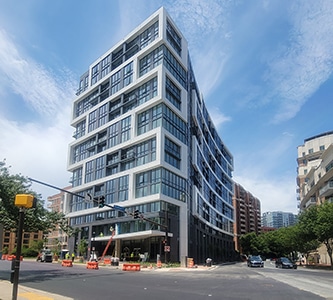 The Edge Apartments, Montgomery County, MD
GTA provided environmental consulting, underslab drainage system design, and construction observation and testing (COT) services.
15-story, 154-unit luxury apartment tower with two levels of underground parking, located on 1.65 acres and within walking distance to the Bethesda Metro station.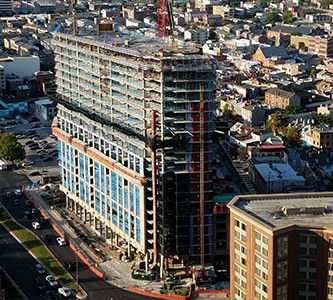 Avalon 555 President, Baltimore City, MD
Geotechnical engineering, environmental consulting, and construction observation and testing services during construction of the foundation of the 23-story, 550,000-SF, 380-unit apartment building with ground level retail space, and seven-story parking garage.
Geotechnical services included design of the drilled pier deep foundation system for the structure. GTA oversaw the installation and performance of over 100 drilled piers ranging from 2.5 to 5-foot diameter, and 50 to 120 feet.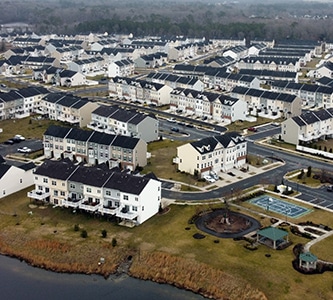 Plantation Lakes, Sussex County, DE
Geotechnical engineering, environmental consulting, wetland delineation, hydrogeologic services, and construction observation and testing services for the 664-acre, 2,510-unit Residential Planned Community (RPC), 18-hole Championship Golf Course, and 22,000-SF award-winning clubhouse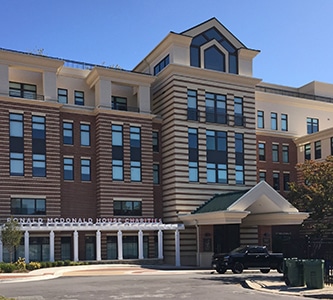 Ronald McDonald House, Baltimore City, MD
Environmental services, subsurface exploration, and installation of borehole inclinometers for the new six-story, 60,000-SF Ronald McDonald House structure in Historic Jonestown
Provided recommendations for construction of the two-story, below-grade garage which would be in close proximity to historic buildings, originally constructed in the 18th and 19th centuries
Construction observation and testing services
Named Best in Real Estate by Baltimore Business Journal. Received Award of Excellence by MBIA, LDC and NAIOP, MD Best Community Impact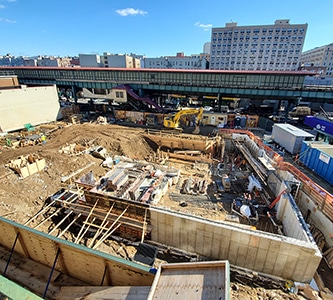 1769 Jerome Avenue, Bronx Borough, NY
Geotechnical engineering, support of excavation (SOE) design, special inspection services including deep foundation load testing, and review of Site Safety Plans for the new 16-story, 144,000-SF mixed-use building with 175 affordable residential units, a footprint of approximately 15,000 SF, and partial cellar level 10 feet below the sidewalk level.
The building is supported by a combination of footings bearing on rock and 180-ton caisson piles socketed into the highly weathered rock.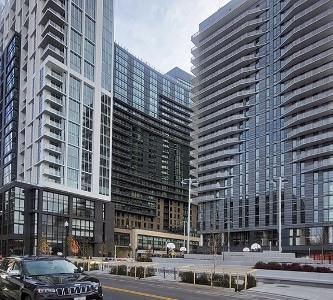 The Highlands, Arlington County, VA
Part of the West Rosslyn Area Plan Study (WRAPS), a County-driven and community-involved redevelopment opportunity.
Geotechnical engineering, environmental consulting, and COT services for the 1,200,000-SF above grade complex with three high-rise towers containing upscale condominium and luxury apartment communities, and ground floor retail. The complex also includes four levels of below grade parking for approximately 1,050 cars.
Atwater Village, Chester County, PA
Geotechnical and environmental consulting and COT services for the 147-acre mixed-use development with 549 single, twin, and townhomes, nine apartment buildings, a daycare facility, and four commercial pad sites.
Saved the client an estimated cost of over $2,000,000.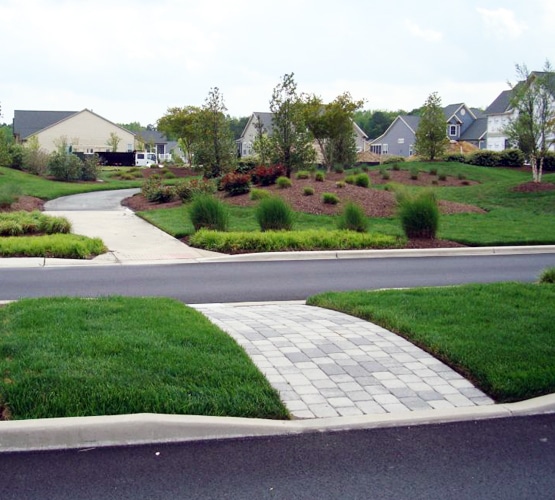 Bay Forest Club, Sussex County, DE
Geotechnical engineering, wetland delineation and permitting, and COT services for the 407-acre Residential Planned Community.
This 913-unit community focuses on environmental protection and enhancement, and was design to preserve over 139 acres (36%) of open space with 90 acres (50%) of the existing forest remaining for trails and passive open space.
The Residences at Bulle Rock, Harford County, MD
Geotechnical engineering, environmental consulting, and COT services for the 977-acre residential development.
Services include testing for mass grading, SWM facilities, subsurface utilities, and monitoring lot fill treated with soil cement.
Inspections of cast-in place concrete, foundations, reinforcing steel as well as structural steel inspections for clubhouse building & water tower.
Observations for construction of a bottomless arch bridge, and construction of a reinforced soil slope and modular block retaining wall.
Named HBA of MD, LDC, Project of the Year.
Village South at Waugh Chapel, Anne Arundel County, MD
Drilling, lab testing, geotechnical engineering, environmental consulting, & COT services for the 100-acre, 1.2 million-SF residential, retail, & commercial development, located at the site of a former sand & gravel mine reclaimed with fly ash.
Site issues encountered included: fly ash fill, loose fly ash, uncontrolled fill, a stump dump, a deep mined hole, a tall retaining wall on uncontrolled fill, an existing deep sewer with poor backfill, and a proposed deep sewer close to a building.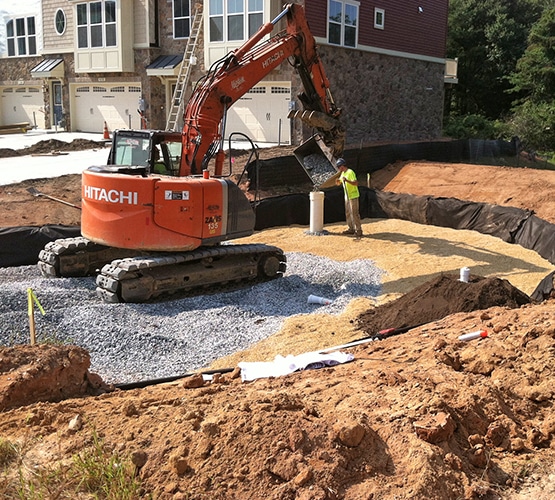 Creekside Village, Anne Arundel County, MD
Geotechnical engineering, environmental consulting, COT services for the 161-acre community with 820 single-family homes and townhome lots, 208 apartment units within six buildings, two clubhouses, & two swimming pools.
Named "Community of the Year," by MBIA Land Development Council.
Received the "Excellence in Construction Award, New Project Over $10 Million," from Baltimore Metro Chapter of the Associated Builders and Contractors, Inc.
The Residences at Mid-Town Park, City of Wilmington, DE
Subsurface exploration, laboratory testing, geotechnical engineering, and COT services.
Shear wave tests and post construction dewatering recommendations for foundation and pavement design.
417,000-SF, 3 levels of underground parking for 511-cars, requiring excavations of about 32 to 44 feet.
5-story and a 7-story buildings connected by pedestrian bridge, retail, 198 apartment units, elevated courtyard, and resort-style swimming pool.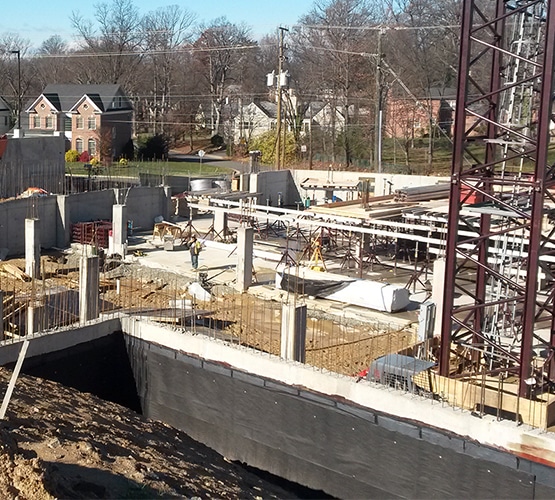 6410 Arlington Boulevard, Falls Church, VA
Geotechnical engineering, retaining wall design, environmental consulting, & COT services for 2 stories of below-grade parking, & 5 stories above-grade w/ apartments, retail, & townhouses.
Obstacles included adjacent parking garage w/ uncertain foundation conditions, adjacent below grade parking garage which could not receive additional lateral loading, existing fill and loose, wet soil conditions.
COT for this project fell under the stringent guidelines of Fairfax County's Special Inspection Program.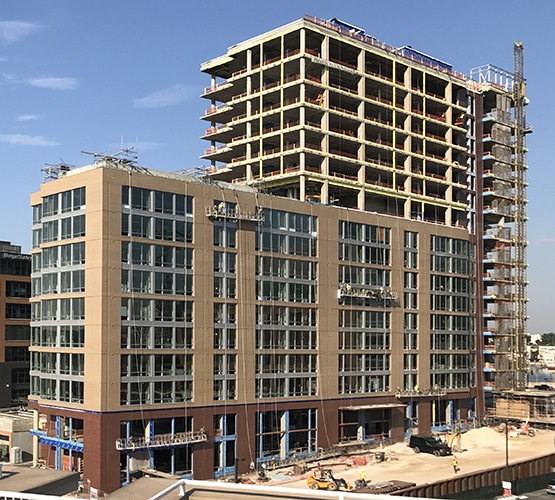 Point Street Apartments, Baltimore City, MD
Geotechnical engineering, environmental consulting, and COT services for the 270,000-SF, 17-story apartment building with a one-level, 40,000-SF below grade parking garage, and 18,000 SF of retail space on the first floor.
The foundations for the project include over 300 driven, environmental concentric closed-end steel pipe piles filled with concrete.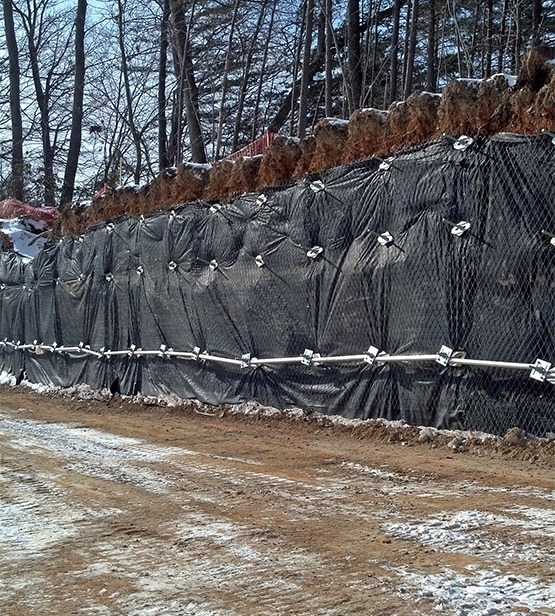 Cardinal Grove Retaining Wall, Prince William County, VA
GTA conducted a geotechnical study, caisson and retaining wall design, and COT services for the 158 SFH development. Evaluated site suitability for development and global stability analysis for several retaining walls and slopes up to 19' high. Due to close vicinity of the property line to the retaining walls, it was determined that soil nail walls with Segmental block facing would be the best fit. Due to the height and complexity, one of the retaining walls was deemed Special Inspections by the County.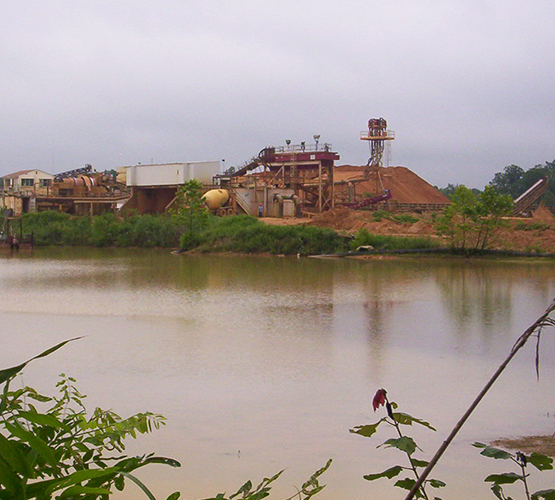 Sand & Gravel Mining Site Potential Redevelopment, Charles County, MD
Planned mixed-use development at the site of an existing sand and gravel mine.
GTA performed a combination of SPT, CPT, and DMT soundings to evaluate the engineering characteristics of the soils and determine their potential impact on development.
GTA worked with the project team to devise several options/methods for construction of structures in areas which are underlain by the wash pond sediments.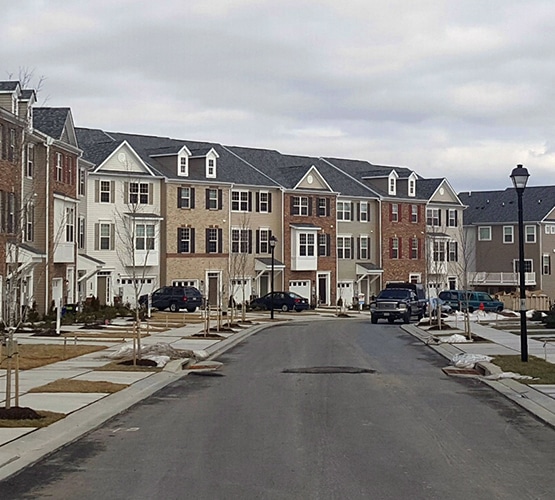 Ballard Green, Baltimore County, MD
The development plan for the 105-acre, 521-home mixed-use community called for depths of fill up to 12-18 feet over portions of existing gas pipelines.
The gas company required detailed evaluation to ensure that the fill loads would not impact the pipelines.
DMT soundings were used to estimate the soil stiffness and resulting settlement beneath each pipeline.
GTA was able to more accurately estimate soil settlements resulting in a less conservative analysis.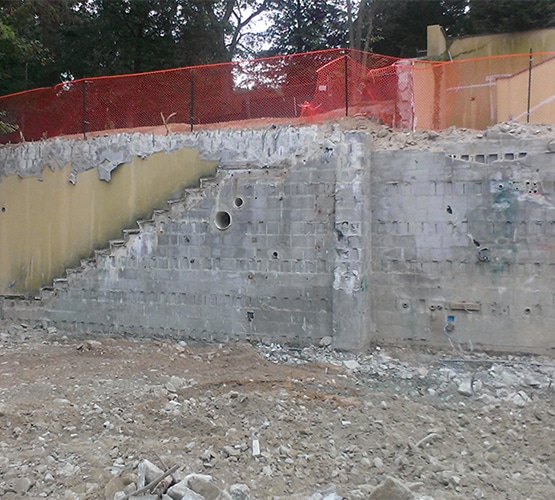 University Terrace, Washington, D.C.
GTA provided value-engineering recommendations for a single-family house to be constructed at the location of a former tennis court and several retaining walls which were to be reused to support the basement walls.
GTA's exploration program included excavator-pushed DMT soundings, performed adjacent to the existing retaining wall concrete footings.
Spread footings were recommended, thus eliminating the need for a specialty foundation system, and saving a significant cost for the project.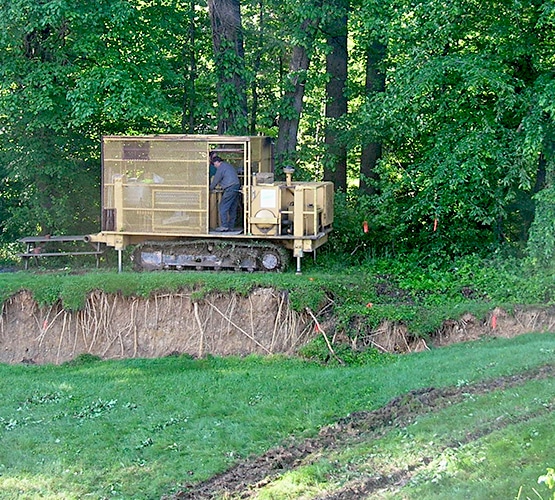 Yorkville Road Slope Failure Evaluation, Prince George's County, MD
CPT services for the emergency in-situ testing to determine the existing condition of, and analyze possible remediation measures for a slope failure approximately 300 yards long by 150 yards wide.
Several homes that were affected by the slope failure were condemned and demolished.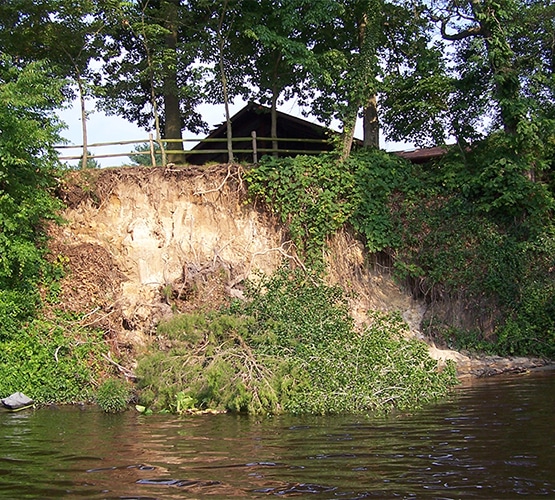 Nanticoke Distressed Slope, Sussex County, DE
Retained to provide geotechnical engineering services for design and construction of slope stabilization measures for a 25-foot-high natural slope on the Nanticoke River.
Evaluation included subsurface explorations, laboratory testing and slope stability analyses to evaluate the landslide.
Assisted with development of plans for increasing the stability of the existing slope including drains to lower the water elevations, and plantings along the face and shoreline toe.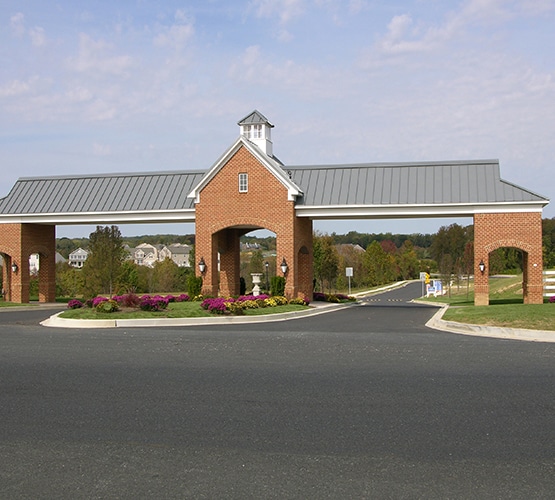 Trails at Beech Creek, Harford County, MD
Geotechnical, environmental, and COTS services for a 349 single-family and 397 townhome subdivision on a former 300-acre golf course.
Wetland delineation, GPS location of wetland boundary, rare, threatened, and endangered species consultation, wetland permitting, and stream mitigation design services. Managed permitting for the wetland impacts including three road crossings, site grading, utility line crossings of streams and wetlands, and stormwater management pond outfalls.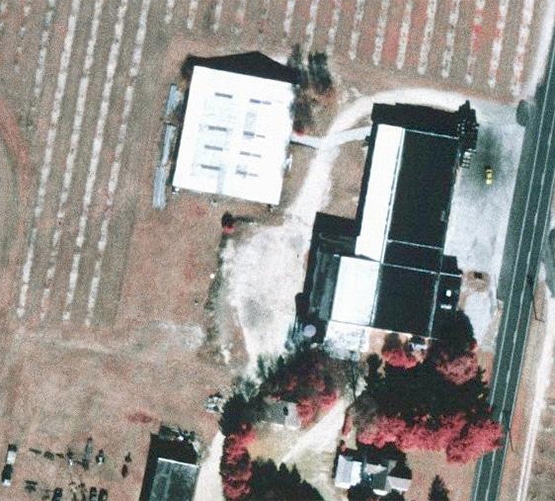 Peach and Apple Orchard, Gloucester County, NJ
285-acre active peach and apple orchard proposed for single-family residential development.
GTA performed a Phase I and Phase II Environmental Site Assessment.
Arsenic, and the priority pollutant pesticides dieldrin and DDT, were detected in shallow soil samples above applicable soil cleanup criteria.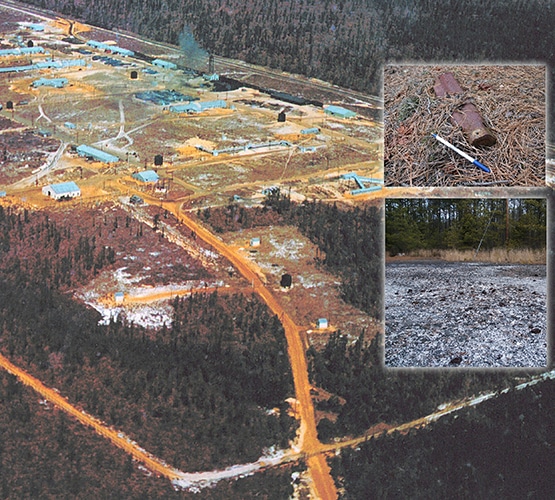 Former Incendiary Bomb Plant, Southern, NJ
300-acre single-family residential development which was previously the site of a WWII munitions plant.
Performed a Phase I Environmental Site Assessment identifying environmental conditions including UXO; ordnance and explosive waste; gasoline and chemical storage; incendiary bomb filling areas; maintenance areas; and a bomb testing area devoid of vegetation
GTA performed surface sampling and installed well points to evaluate soil and groundwater quality on portions of the site.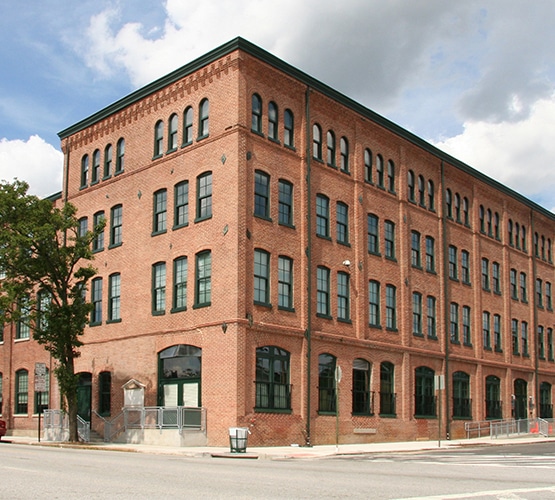 Miller's Court, Baltimore City, MD
$20.3 M mixed-use redevelopment.
Phase I and II Environmental Site Assessments as part of BDC's Brownfield Initiative for the site.
Samples collected from the site reported elevated concentrations of petroleum, volatile organic compounds, and metals in soil and groundwater. One 1,000-gallon gasoline UST, one 10,000-gallon AST, and 120 tons of petroleum impacted soil were removed from the site.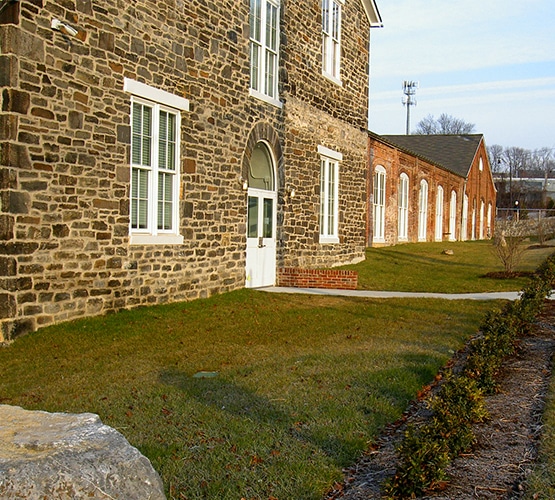 Union Mill, Baltimore City, MD
Awards: WaveMaker Award – ULI Baltimore; Phoenix Award – Preservation MD; Brownfield Renewal Award/Sustainability Impact Category.
Phase II Environmental Site Assessment for the $20 million redevelopment of a historic former industrial property into an 86,000-SF mixed-use facility containing 56 one and two-bedroom apartment units targeted to teachers, and 25,000 SF of office space designed for non-profit organizations.
The site was entered into the MDE VCP.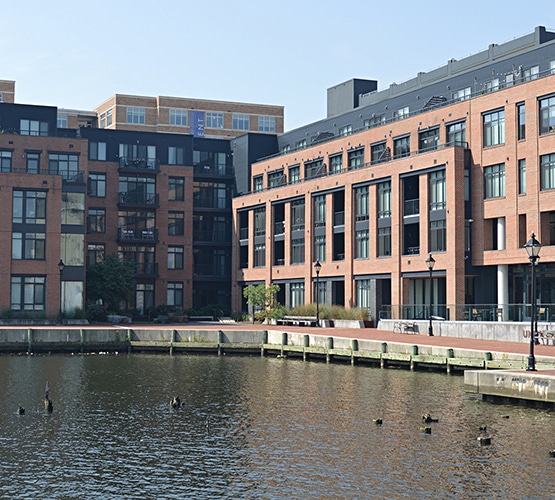 Union Wharf, Baltimore City, MD
Awards: Multifamily Community of the Year & Best Rental Apartment Community – NAHB; WaveMaker Award – Baltimore ULI.
Phase I and II Environmental Site Assessments for the $72 million redevelopment of a former industrial property into an upscale, LEED Silver designed, mixed-use facility containing 281 apartments, 4,500-SF of retail space, and nearly 500 parking spaces.
A geophysical evaluation included electromagnetic (EM) survey and ground-penetrating radar (GPR) to identify subsurface obstructions.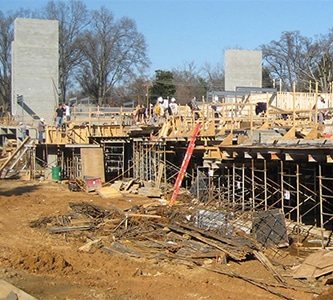 Tranquil Court, Charlotte, NC
Development included a 4-story 104-unit condominium building and a 5-story, 62,000-sf retail and office building situated above a 1-story parking structure.
GTA Associates, Inc.'s services included construction observation and testing of structural fills, concrete foundation and slabs, structural steel, masonry, asphalt, and a 6,500-sf soil nail wall.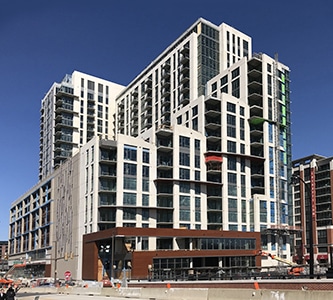 Liberty Harbor East, Baltimore City, MD
Geotechnical and environmental consulting for the 23-story, 750,000-SF, mixed-use building with apartments, condominiums, retail, and parking.
COT services and environmental consulting during construction of building's foundation.
Instrumentation and monitoring plan to monitor settlement of a century old brick-lined stormwater tunnel supported on timber piles, located less than 10 feet from the proposed 3- to 6-foot diameter caissons.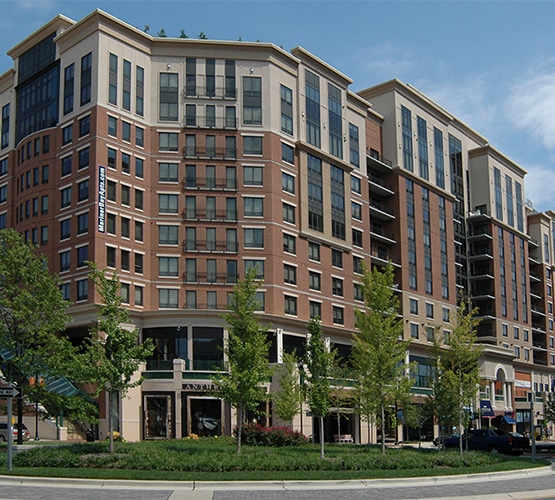 Mariner Bay at Annapolis Towne Centre, Building 2, Anne Arundel County, MD
Subsurface explorations including SPT borings, seismic Cone Penetration Test soundings, and test pits.
12-story mixed-use facility including 208 luxury apartments, 95,000 SF of retail, and 1,000-car parking structure.
The seismic CPT soundings allowed GTA to improve the seismic site class for the site resulting in a cost-effective structural design.
Construction phase observation and testing services.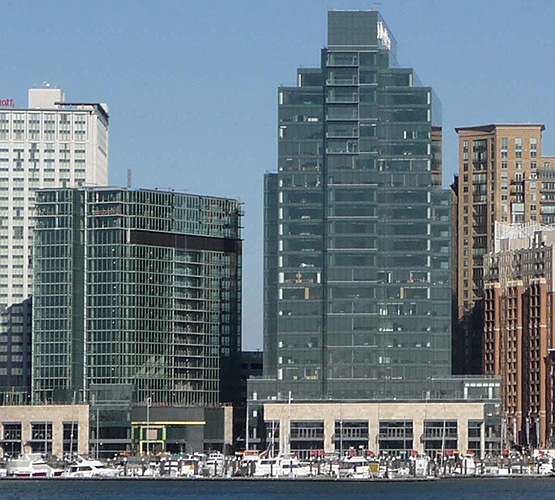 Four Seasons Hotel & Legg Mason Office Complex, Baltimore City, MD
22-Story luxury hotel and condominium tower and a 26-story office tower at Baltimore's waterfront with 5-story below grade parking.
Construction observation and testing included a slurry wall, mat foundation, post-tensioned concrete, micro-piles, caissons, and tie-back anchors.
Geotechnical, environmental, and hydrogeological services including borings, monitoring wells, seismic analysis, and in-situ permeability testing.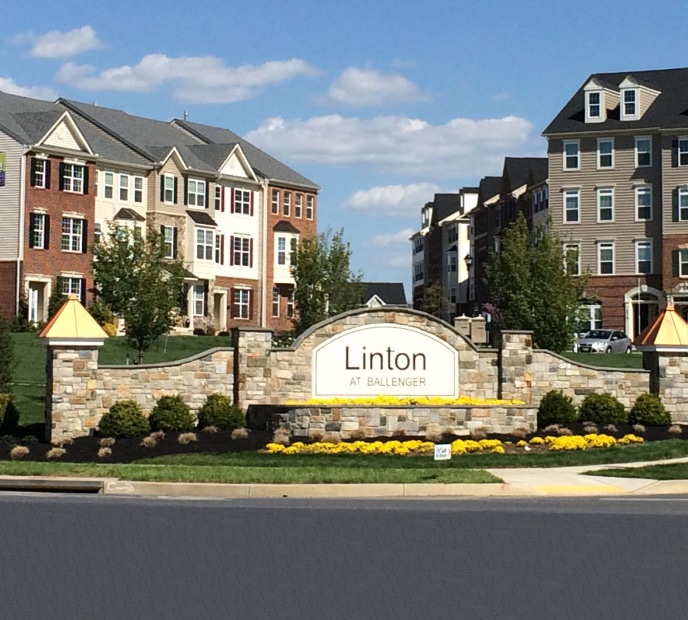 Residential Communities Third Party Inspection Services, Frederick County, MD
Third party utility inspection services consist of verification of construction materials and their installation in accordance with the plans and specifications.
GTA witnesses deflection, pressure, and vacuum testing, and well as TV inspection and a video review of installed sewer lines.
Waterline testing services include witnessing chlorination, bacteria sample collection and hydrostatic testing.