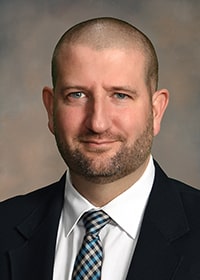 Michael W. Derr, PE
Vice President
Geotechnical Engineering

Quakertown, PA Office
(484) 294-0878
MDerr@www.gtaeng.com
As a Vice President with GTA and licensed Professional Engineer in Pennsylvania, Maryland, and New Jersey with 20 years of experience (17 with GTA), Mike is responsible for geotechnical design and consultation services during the planning and construction of residential, commercial, academic, retail, industrial, and public projects. Additionally, his responsibilities include overseeing quality assurance and quality control; providing training and supervision of field and laboratory staff; overseeing the Quakertown soils and concrete laboratory; and preparing reports, drawings, proposals, and budgets for a variety of design and construction projects.
Mike routinely provides geotechnical design and/or manages construction special inspections and testing of modular block retaining walls, temporary shoring and slopes, reinforced soil slopes, mechanically stabilized earth walls, pavement design, shallow and deep foundations, foundation underpinning, ground modification and stabilization, groundwater studies, and subsurface explorations associated with stormwater best practices. He has experience with projects located within sinkhole prone geology, requiring specialized sinkhole and subsurface stabilization methods.
In addition, Mike is certified as a Special Inspector by The City of Philadelphia Department of Licenses and Inspection and by the New Jersey Department of Consumer Affairs. Mike is also an American Welding Society Certified Welding Inspector.
He received his Bachelor of Science degree in business management from Colby-Sawyer College in 2002 and his Bachelor of Science degree in civil engineering from Drexel University in 2006.
Mike is a member and past president of the Lehigh Valley Chapter of American Society of Civil Engineers (ASCE), and a member of American Welding Society, Lehigh Valley Engineering Council, and Delaware Valley Geo-Institute. He was named "Young Engineer of the Year," in 2016, by Pennsylvania Society of Professional Engineers, Lehigh Valley Chapter.
He is currently overseeing several large residential, commercial, and industrial projects in Pennsylvania.