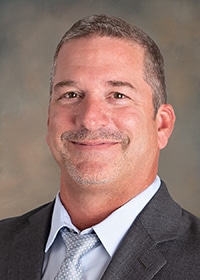 David S. Whitney
Sr. Wetland Scientist
Natural Resource Consulting

Orlando, FL Office
Office: (321) 482-4239
Cell: (689) 444-9699
DWhitney@gtaeng.com
We are pleased to announce that David Whitney has joined GTA!
With the hiring of David Whitney as a Senior Wetland Scientist at our Orlando location, GTA is better equipped to provide natural resource consulting services to our clients in the Southeast region. David, who previously worked for Universal Engineering Sciences, and more recently, Environmental Consulting & Technology, has more than 22 years of experience performing a wide range of environmental and ecological related work in the state of Florida.
An alumnus of University of Central Florida, David holds Bachelor of Science degrees in Biological Sciences and Liberal Studies. David has received additional training and certifications some of which include: CFAEP & FDEP Wetland Delineations, SWFWMD Hydric Soils, and ASTM International Property Condition Assessment training; Florida Fish and Wildlife Conservation Commission Authorized Gopher Tortoise Agent; Florida Department of Environmental Protection Stormwater Erosion Control Inspector; and AHERA Asbestos Facility Inspector and Asbestos Supervisor. He is also an active member in Florida's and Central Florida's Association of Environmental Professionals chapters.
David has extensive knowledge of regulatory rules and regulatory permitting criteria of federal, state, and local agencies for projects related to residential, commercial, and industrial development, along with water, wastewater, stormwater/drainage, and transportation projects. His field experience includes wetland assessments and delineations, threatened and endangered species assessments, surveys, permitting, and relocations, lake restoration, and vegetation surveys/mapping. David provides coordination, negotiation, and design services for requisite wetland mitigation areas. He is also experienced in stormwater facility inspections, and NPDES inspections, as well as asbestos containing building material (ACBM) inspections for all renovation or demolition work, commercial, industrial, and residential property condition assessments, and Phase I Environmental Site Assessments.
"We are excited to expand our reach into the Southeast region and are happy to have David on our team to help meet our clients' needs," said GTA Vice President, Andy Stansfield, who is responsible for GTA's natural resource services. "David's wealth of experience is an invaluable asset to GTA and our clients."
If you have projects within the Southeast region and require natural resource consulting services, feel free to contact David at our Orlando office.