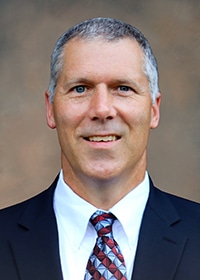 Randy C. Daub, PE
Senior Geotechnical Engineer
Geotechnical Engineering
Construction Observation and Testing

Beaver Falls, PA Office
(330) 853-7438
RDaub@gtaeng.com
We are pleased to announce that Randy Daub, P.E., has joined GTA to manage our new Beaver Falls, PA, location that will service the Pittsburgh metro area, western Pennsylvania, eastern Ohio, and the West Virginia panhandle.
Mr. Daub, with over 25 years of experience in commercial, industrial, institutional, residential, and roadway projects, specializes in geotechnical engineering and construction observation and testing services. As a Senior Geotechnical Engineer with GTA, Randy is responsible for managing the Beaver Falls, PA, office while overseeing subsurface explorations and developing geotechnical recommendations for a wide variety of public and private projects requiring shallow and deep foundations, stormwater management facilities, earthwork and excavation, flexible and rigid pavement, groundwater and drainage, retaining walls, and slope stability. He is also responsible for geotechnical observations and third-party observation and testing services during construction.
Previously, Randy worked for PSI/Intertek, where during 23 years with the firm, he was a Branch Manager, Special Project Manager, and District Manager in northeast Ohio. Additionally, he worked for ms consultants, Inc. in their Youngstown, OH office performing geotechnical engineering services and bridge inspection for two years.
Randy received his MBA at Youngstown State University and his Bachelor of Science degree in Civil Engineering from Ohio State University. He is a past president for American Society of Civil Engineers (ASCE) Youngstown Branch and is a member of ASCE Akron-Canton Section and American Society of Highway Engineers, Cuyahoga Valley Section.
"GTA believes that there is a great opportunity for GTA and Randy to fill a unique niche in this region, providing a highly personal level of service, coupled with the technical expertise and horsepower of GTA's other 15 offices and nearly 400 employees," said Pat Klima, PE, GTA's President.
GTA's new Beaver Falls, PA office will expand GTA's brand of geotechnical and construction testing services in this region. This office will supplement GTA's adjacent office in Malvern, Ohio, to provide enhanced coverage through western Pennsylvania, eastern Ohio, and the West Virginia panhandle. The Beaver Falls, PA, office will focus on providing geotechnical engineering and construction services for civil engineers, architects, owners and developers, public and private schools and universities, municipalities and counties, general contractors, and earthwork contractors. The office will also assist with GTA's strong regional presence with oil and natural gas services, chemical stabilization of soils, and full depth reclamation.
"GTA is very excited to have Randy spearhead our efforts to expand within this region. In his 25 years of practice, he has earned a great reputation for solving geotechnical problems and providing a high level of personal service.  Randy will help GTA develop a strong regional presence to serve new clients, and better serve GTA's existing clients," said Jon Raab, PE, Vice President.
For business opportunities, please contact GTA at the following:
Pennsylvania and West Virginia Opportunities
Randy Daub, PE, at 330-853-7438
rdaub@gtaeng.com
Ohio Opportunities
Jon Raab, PE, at 330-863-4239
jraab@gtaeng.com