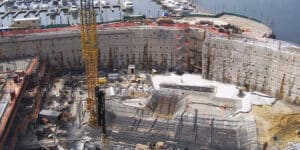 AWARDS:
"Award of Excellence," by NAIOP, MD Chapter, High-Rise Office Building
"WaveMaker Award," by the Urban Land Institute, Baltimore District
"Excellence in Concrete Award," by ACI, MD Chapter
GTA provided construction observation and testing services during the construction of the slurry wall and mat foundation for a new luxury high-rise hotel and condominium complex located directly adjacent to Baltimore Harbor's waterfront. The new structure features two towers: a 22-story hotel and condominium tower encompassing 455,000 SF (with capacity of construction to 45 stories), and a 26-story, 600,000-SF office tower located directly adjacent to the harbor waterfront. This building also includes a five-story below-grade parking garage, which requires a 24-hour dewatering system due to the close proximity to the waterfront. The structure was designed utilizing both conventional reinforced concrete and post-tensioned concrete structural systems. GTA's services included observations of the excavation and installation of micropiles and caissons to confirm sufficient penetration to design bearing materials and compliance with established tolerances allowed for during the construction, observations of slurry wall panel and mat foundation excavations and associated steel reinforcement placement, observations of the installation and testing of temporary tieback anchors, sampling and testing of the concrete for the slurry wall panels and mat foundation, sampling and testing of grout placed for tieback anchors and the monitoring of temperature and maturity of the mat foundation mass concrete. For the mass concrete monitoring, GTA utilized maturity and temperature loggers placed at the surface and at mid-depth of approximately 20 mat pours along with a compatible logger reader to provide up-to-date temperature difference limits and estimated compressive strengths of the in-place concrete. This information was helpful in allowing the contractor to correctly implement the requirements of the provided thermal control plan.
GTA also provided Phase I and II Environmental Site Assessments, groundwater evaluations and analysis, geotechnical assessment, inclinometer installation and monitoring, foundation design and drilling services.