GTA provides a variety of consulting engineering services to assist our clients throughout the Marcellus and Utica regions. GTA also provides a variety of consulting services for transmission pipelines.
A vital area of work involves geotechnical services associated with design and reconstruction of roadways damaged, or planned to be used, by the heavy traffic associated with drilling and servicing wells. GTA is the leader in Full Depth Reclamation (FDR), where existing roadways are recycled and improved in place with the addition of cement. In addition, a similar process of using cement stabilization for the surface of well pads and lease roads has replaced the traditional aggregate surface. Due to the reliability and lower initial construction and long-term maintenance costs, FDR and well pad cement stabilization have been embraced by most oil and gas companies.
Since 2010, GTA has provided design for reconstruction of over 500 roadway projects encompassing over 800 miles of state, county, and municipal owned public roadways. GTA also provided chemical stabilization design for approximately 400 well pads and associated lease roads. These services were performed for 32 different operators involved in the Marcellus and Utica plays.
GTA's areas of specialization related to oil and gas field support are as follows:
GEOTECHNICAL SERVICES
Roadway evaluations, design, and reconstruction
Full depth reclamation expertise and assistance
Dust suppression
Geotechnical evaluation for pad and impoundment construction
Impoundment studies
Foundation support
Utility support
SPT borings and/or CPT probes
Geotechnical laboratory testing
Slope stability design and analysis
Steepened slope design using geogrid, rockfill, and chemically treated soils
Specialty retaining wall design, including soil nails, geogrid reinforcement, gabions and soldier piles
Landslide/slip evaluation and repair
Mine spoil evaluation
Deep mining evaluation
Subsurface exploration for HDD crossing
Stormwater infiltration testing
Bridge and culvert crossing geotechnical explorations
ENVIRONMENTAL SERVICES
Phase I and II ESAs
Pennsylvania ACT 2 closure process
WV Voluntary Remediation and Redevelopment Act
Two WV Licensed Remediation Specialists on staff
FERC 7(c) Filings
Wetland Delineation and Permitting
Stream Restoration Design and Monitoring
Wetland Mitigation Design and Monitoring
Threatened and Endangered Species Surveys
Cultural Resource Surveys
Environmental Inspector Services
Stabilization recommendation
Air quality evaluation
Groundwater modeling for supply studies
21-Mile Pipeline Installation, Third Party Independent Environmental Monitor Support, MD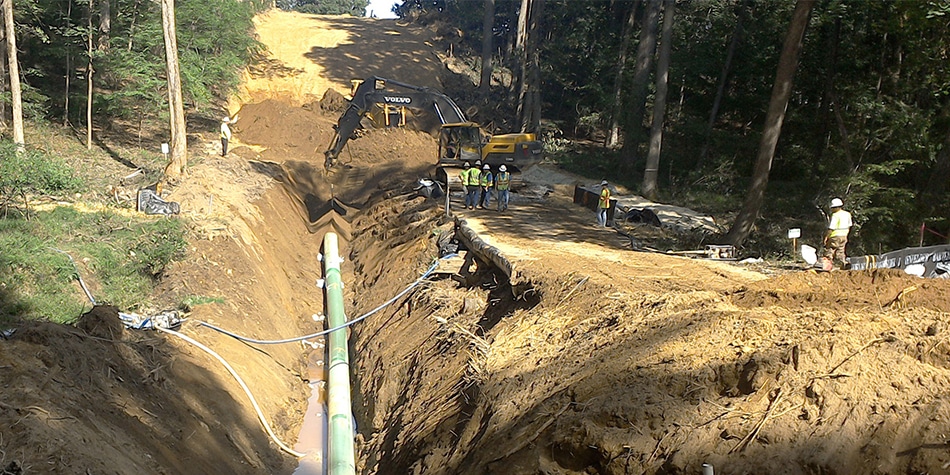 GTA performed independent "environmental monitoring" services for the installation of 21.1 miles of 26-inch diameter pipeline and associated facilities. GTA's personnel reported directly to the USACE and MDE and Baltimore County Permits, Approvals and Inspections, and Harford County Department of Public Works Bureau of Construction Inspections. Work included construction inspection of the pipeline and associated site improvements including sediment control features, approving low-impact plan modifications, submitting daily reports to agencies including non-compliance reports, working with Client's Environmental and Chief Inspectors, MDE, USACE, and County personnel to resolve non-compliance issues in the field, promoting a safe work environment, performing weekly post construction site visits and site visits after half-inch or greater rain events that result in runoff, and overseeing implementation of the offsite mitigation area construction project.  GTA provided 24/7 on-site support as the pipeline was installed across streams and wetlands until these areas were stabilized.
Thomas Petroleum, Diesel Fuel Distribution Facility, Williston, ND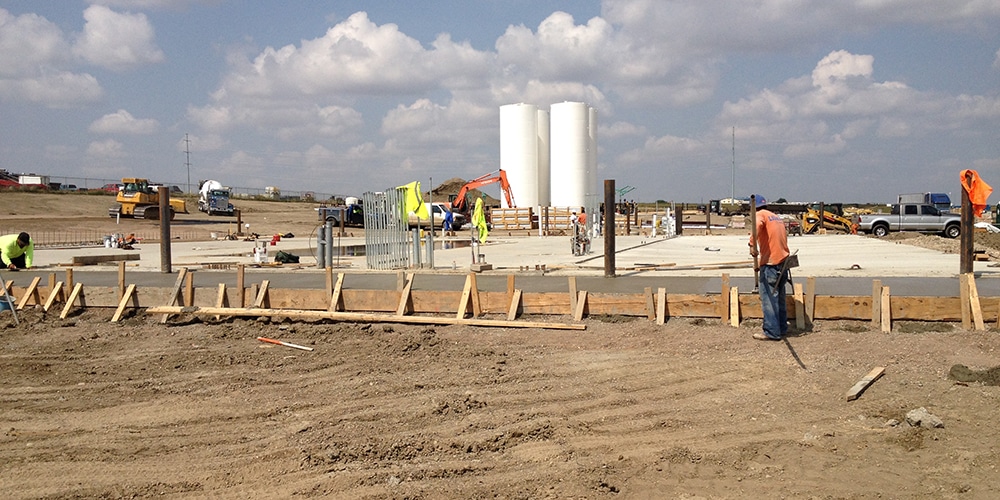 Thomas Petroleum, based in Texas, developed a six-acre diesel fuel distribution facility in Williston, North Dakota. The construction consisted of a one-story, slab-on-grade, metal building with a footprint of approximately 10,000 square feet and a tank farm consisting of four, 14-foot diameter, 50,000-gallon tanks used to store various types of diesel fuel. GTA provided subsurface exploration, laboratory testing, and engineering analysis and construction observation and testing services. The geotechnical evaluation included recommendations for foundation support, slab support, tank foundation/containment pad support, site grading, groundwater control, and utility construction. Prior to Thomas Petroleum purchasing the site, the property had been graded, but the fill was undocumented. GTA provided supplemental evaluation, observation and testing services for ground improvement resulting in saving substantial project development expenditures.
Chesapeake Energy – Full-Depth Road Reclamation Design, OH, PA, & WV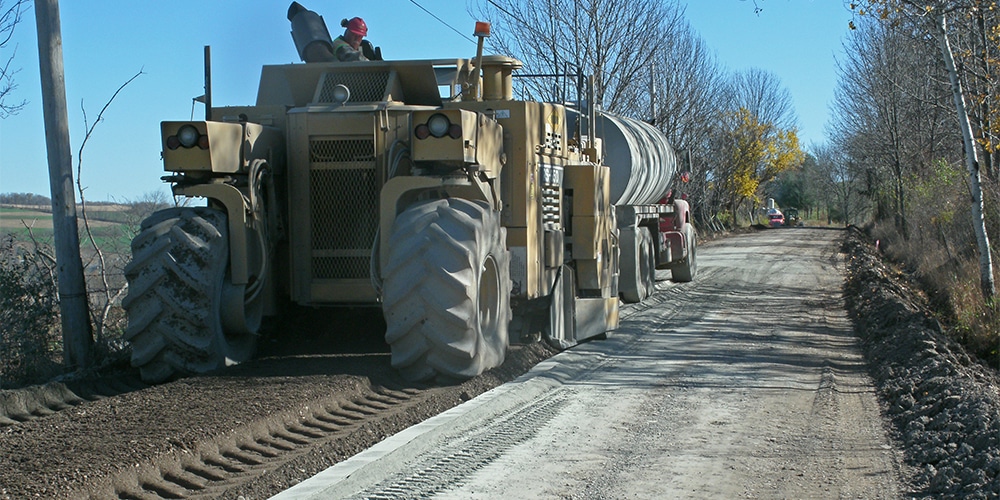 GTA provided design for reconstruction of over 450 miles of paved state, county, and municipal owned public roadways in Ohio, Pennsylvania, and West Virginia that were damaged by Marcellus/Utica Shale related drilling traffic since 2010. Performed initial evaluations of pavement condition and distress (rutting, cracking, base failure, instability) to assess options to support drilling traffic. Pavement design was performed in accordance with the AASHTO design methodology and included full-depth reclamation with cement, base repair options, HMA structural pavement overlay, total reconstruction, and geogrid stabilized base courses.
Emergency winter repairs were necessary to stabilize roadways to support public traffic. These emergency designs included stabilization with quicklime and lime kiln dust, placement of aggregate, and base repair with HMA paving.
GTA also designed specialty slope and wall stability systems to support areas of slope instability affecting the public roadways. Stabilization methods included soil nail walls, micropiles, reinforced soil slopes, slope stabilization systems, block walls, and sub-drainage systems.
Our design services on these projects included collection and logging of soil and aggregate samples from test pits and test borings, and the necessary laboratory soils testing (moisture, USCS classification, moisture-density, CBR, and unconfined compressive strength of soil-cement samples).
Our services during the reconstruction of these roads consisted of full-time observation and testing, which consisted of roadway subgrade stability, undercut and replacement, base repair stability, chemical application and mixing (application rate, moisture and mix gradation), density testing of compacted material and fabrication of specimens for compression testing.
GTA provided wetland services including delineation, GPS location, and reporting for natural gas well pads and water impoundments. Additionally, performed wetland delineations for roadway improvements to support the heavy vehicular traffic associated with the natural gas industry. These services were provided at more than 50 locations throughout northern and western Pennsylvania.
Agencies that were involved in the design process included Pennsylvania DOT, Ohio DOH, West Virginia DOH, Pennsylvania DEP, and various county and municipal governments.
Sunrise Pipeline Landslide Remediation, PA and WV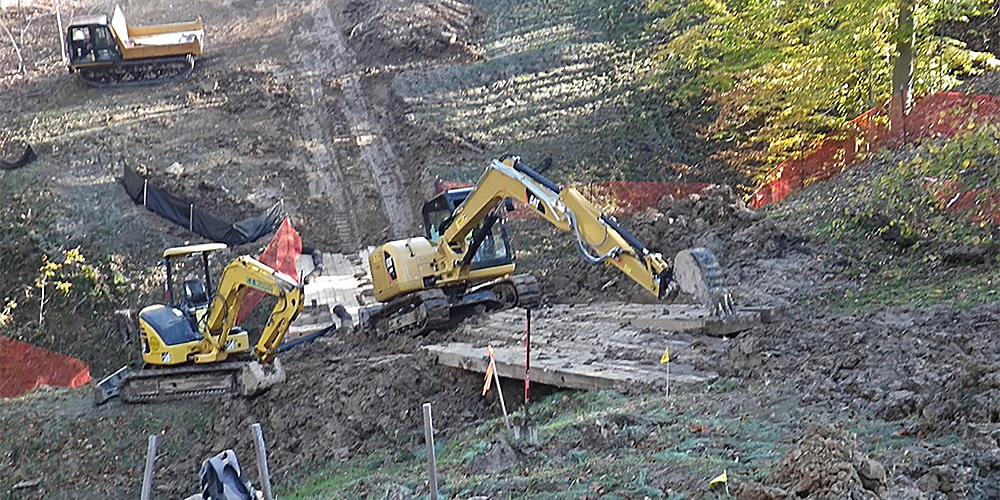 GTA provided geotechnical design and construction observation and testing for landslides associated with a 42-mile-long natural gas pipeline in Pennsylvania and West Virginia. The pipeline traversed very steep topography located in landslide-prone geology. The pipeline, which was designed and constructed by others, experienced many severe landslides. There were 20 slides occurring at 12 different locations. GTA was retained by the owner/operator to provide geotechnical consulting services for the landslides.
The initial phase of geotechnical services consisted of field visits, obtaining field information relating to the landslides and surface/subsurface drainage, evaluating the contributing factors of the landslides, and performing preliminary laboratory soils testing.  GTA then further evaluated the subsurface conditions and drainage conditions using test pits. GTA developed landslide repair plans for each slide, which included plans, cross-sections, details and specifications. The repairs consisted of geogrid reinforced slopes, surface drainage systems, subsurface drainage systems, groundwater trench cutoff drains, and benching configurations. GTA also participated in pre-bid meetings, answered contractor questions, compiled construction quantities, and reviewed bids with the owner. Construction observation and testing consisted of evaluating excavation depths, drain placement, pipe and aggregate backfill for drains, and compaction of soil backfill.
Access Midstream: Various Surface Stabilization Projects for Compressor Stations, OH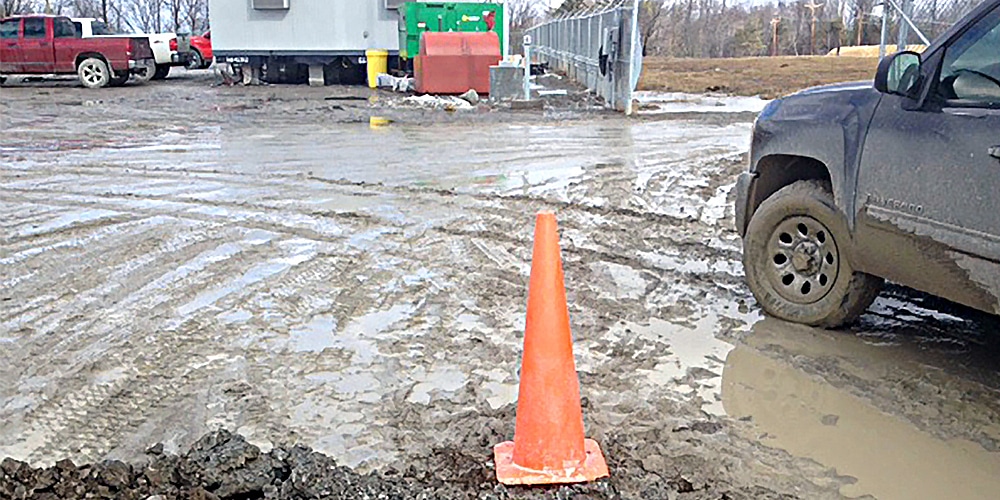 GTA provided geotechnical testing and design for the surface stabilization of three compressor stations pads in Ohio: Archer station in Harrison County, Kilgore/Schoolcraft station in Carroll County, and Scio station in Harrison County. For the Kilgore/Schoolcraft and Scio stations, GTA provided surface stabilization design during the design phase of the project.  The stabilization options considered included an aggregate only surface, geogrid reinforced aggregate surface, and soil cement stabilized surface. The design was based on supporting various levels of traffic for light and heavy duty traffic. The assessment included soil laboratory testing and thickness design for each option.
For the Archer station, GTA was contracted, after the pad was built, due to rapid distress that occurred from heavy traffic. Poor surface drainage conditions contributed to the loss of soil strength, which resulted in deep instability and rutting of the pad surface. GTA performed test pits to evaluate the surface and subsurface conditions and identify subgrade strength. GTA performed soil cement mix design testing to determine the approximate chemical mix required to stabilize the surface.  In addition, aggregate only and geogrid reinforced aggregate options were also considered to support the proposed traffic. The effects of poor surface drainage were considered on the development, design, and construction of the three proposed repair options.
Natural Gas Pipeline Expansion, Kent County, DE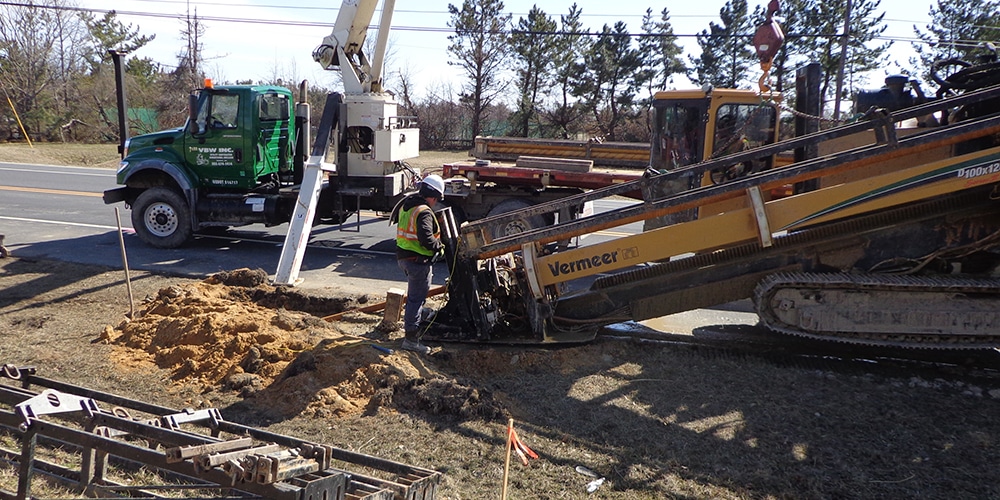 This project's purpose is to serve an electric power generation plant being constructed in Dover, Delaware. The 309MW plant, dubbed the Garrison Energy Center, is located in Garrison Oak Technical Park. This project marks the first delivery lateral firm transportation service on Eastern Shore Natural Gas's (ESNG) system. GTA provided natural resource evaluations and federal and state permitting services for this approximately 5.5-mile utility alignment project. The White Oak Lateral Natural Gas Pipeline Expansion project will serve the electric power generation plant, converting its fuel source from coal to natural gas, and provide additional natural gas for continued growth for two local distribution companies. GTA coordinated with the Federal Energy Regulatory Commission (FERC), United States Army Corps of Engineers (USACE), Delaware Department of Natural Resources and Environmental Control (DNREC) Wetlands and Subaqueous Lands Section and DNREC Natural Heritage and Endangered Species Program, and the Delaware State Historic Preservation Office (SHPO). GTA prepared resource reports to include in ESNG's filing to obtain a FERC Certificate of Public Convenience and Necessity. Additionally, GTA obtained authorization to use Nationwide Permit 12: Utility Lines for impacts to federally regulated resources and obtained a no authorization required letter from DNREC's Wetland and Subaqueous Land section. GTA also managed Cultural Resource Services through a subconsultant on behalf of ESNG and obtained a concurrence letter from the State Historic Preservation Office.
GTA provided FERC Environmental Inspector Training and currently serves as Environmental Inspector for construction of the project.
Construction began in early 2014 and is anticipated to extend through August 2014. The project has had horizontal directional drill under one railroad crossing, and Delaware Route 1 near the Dover Speedway. Open cut sections have been made through multiple residential communities and GTA has acted as a liaison with the property owners in coordinating restoration in a timely manner. Multiple open cut sections will be required through waterways and areas of shallow water. As such, the client is required to obtain a groundwater allocation permit though DNREC. GTA will observe the installation of the well point system used in dewatering the open cut section, and monitor the discharge and best management practices used during these activities.
Representative Projects
---