GTA Environmental Services, Inc. (GTA ESI), a subsidiary of GTA, was established in 2006. Driven by experienced personnel and client demand, GTA ESI was created in an effort to expand the remediation services offered by GTA.
GTA ESI provides the following services:
Removal of Underground Storage Tanks (USTs)

Demolition and Removal of Above-Ground Storage Tanks (ASTs)

"Risk" Based Closure

Excavation and Removal of Hazardous and Non-Hazardous Soil / Materials

Hazardous Metals Impacted Soil Stabilization

Operation and Maintenance of On-Site Groundwater Treatment Systems

On-Site Treatment of Petroleum Impacted Soil and Groundwater (Bioremediation, Soil Vapor Extraction, etc.)

Design and Installation of Various other Forms of Soil, Groundwater, Soil Vapor Remediation Systems
GTA ESI serves clients throughout the east coast. We strive for simplicity and reliability in our remedial system selection and design, exploiting natural geologic conditions within the design of the selected remedy and future site development goals. We specialize in remedial design and implementation, including engineering, equipment selection, and systems integration and operation, with an eye toward innovative concepts that fulfill project objectives by maintaining appropriate perspective on cost, feasibility of implementation, and cleanup goals.
Once site data are collected, our scientists and engineers analyze the information using their understanding of the nature and extent of the contamination, migration pathways, and physical and chemical properties to determine alternatives for site cleanup. We evaluate the concentration and volume of contaminants at a site, so that an understanding of contaminant transport to human and environmental receptors can be developed. Key to the process is the quantification of the level of uncertainty in the estimates of risk and potential costs associated with the uncertainty. Geological, geotechnical, hydrological, and other environmental data are compiled to allow us to evaluate applicable alternatives. Through risk-based cleanup, we have achieved regulatory closure using more realistic and acceptable remedial action levels resulting in substantial reductions in remediation costs on projects throughout the eastern seaboard.
GTA ESI has the knowledge and experience to undertake any size remediation project, at any level of involvement. Our services range from construction management and oversight through full turnkey execution of projects ranging from $10,000 to over $1 Million. GTA ESI's integrated site remediation solutions reduce costs because they are site specific, technically defensible, and optimize cost-effectiveness. Our technical staff help establish priorities, negotiate cleanup levels, and reduce risks as an integrated component of the remediation process. GTA ESI's goal is simple: make remediation projects effective, efficient, and affordable.
Confidential Soil Blending Project, NJ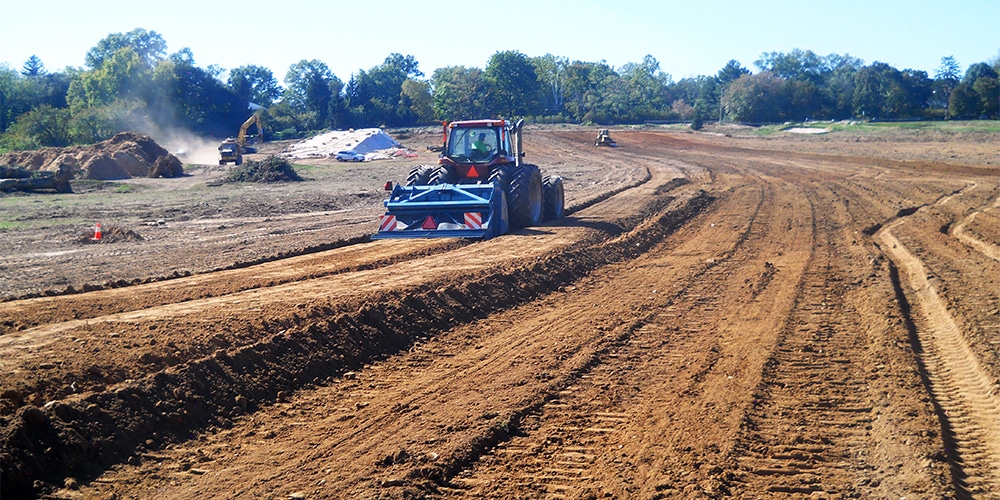 GTA ESI completed an arsenic impacted soil blending project at a confidential former recreational area in New Jersey.  Remedial actions were completed at the subject site to address arsenic in near-surface soil above the applicable soil remediation standard. The uppermost 6 to 12 inches of soil that contained arsenic at more elevated concentrations (up to 110 mg/kg) than in other areas was not practical to blend in place and was remediated via soil excavation.  Approximately 1,324 tons of soil from the remedial excavations were disposed off-site.  No post-excavation soil samples were collected since the remedial excavations were located entirely within areas that were subsequently remediated via soil blending to a deeper depth, and within which post-blending verification sampling was performed to verify completion of the remedial action.
After the shallow remedial excavations were performed, approximately 4 acres were blended in-situ using a rototiller to a depth of approximately 36 inches until cleanup goals were achieved via confirmatory soil samples.  The subject site subdivided to construct a new active adult townhome community.  The Site Investigation/Remedial Investigation/Remedial Action (SI/RI/RA) Report was prepared under the direction of a New Jersey Licensed Site Remediation Professional (LSRP) in accordance with the Site Remediation Reform Act, New Jersey's Technical Requirements for Site Remediation (N.J.A.C. 7:26E), and applicable technical guidance documents.  Based on the remediation completed at the subject site and the findings of the SI/RI/RA, no further remediation was warranted.  Accordingly, issuance of an Unrestricted Use, Response Action Outcome was appropriate for the site.
Four Seasons Hotel & Legg Mason Office Complex, Baltimore City, MD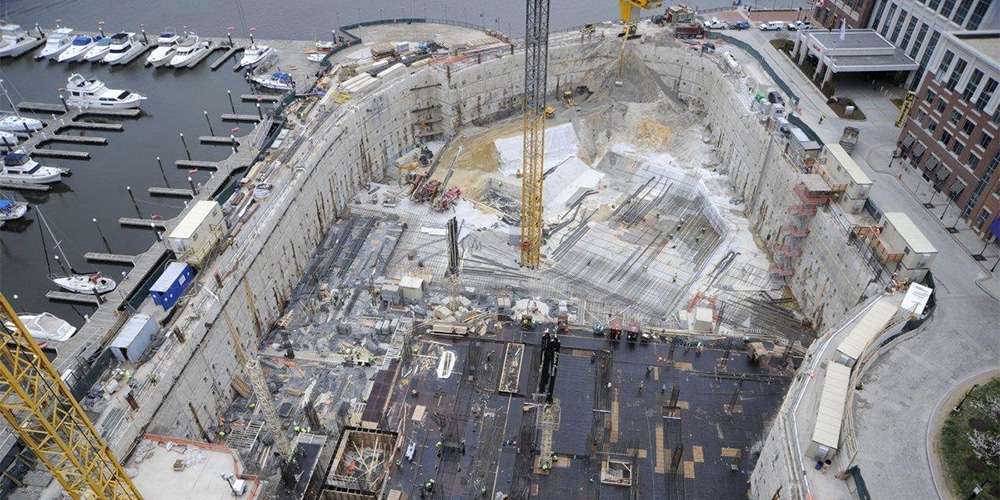 AWARDS:
"Award of Excellence," by NAIOP, MD Chapter, High-Rise Office Building
"WaveMaker Award," by the Urban Land Institute, Baltimore District
"Excellence in Concrete Award," by ACI, MD Chapter
GTA-ESI provided engineering, operating, treating, and disposing of hexavalent chromium-impacted groundwater during construction of the $580 million, high-rise hotel/condominium and office building complex with a 30-story hotel and condominium tower (with capacity of construction to 45 stories), and a 26-story, 600,000-SF office tower with a 5-level, below-grade parking garage, located directly adjacent to the harbor waterfront.
During the construction of slurry wall, chromium-contaminated groundwater was encountered. GTA-ESI provided coordination with regulatory agencies and oversight for permitting, collection, treatment, and disposal of about 1.5 million gallons of contaminated water and sediments.  GTA-ESI provided design, specification, and installation details for an instrumentation program to assess movement of the slurry wall and surrounding structures and pore pressures changes outside the slurry wall.  The monitoring also included sampling of groundwater and sediments to assess contamination.
GTA-ESIs services allowed the client to identify and implement cost-effective solutions for geotechnical, environmental, and groundwater control issues. GTA's prompt response/recommendations to troubleshoot and resolve issues during construction allowed the project to proceed without delays.
The Brick Yard, Prince George's County, MD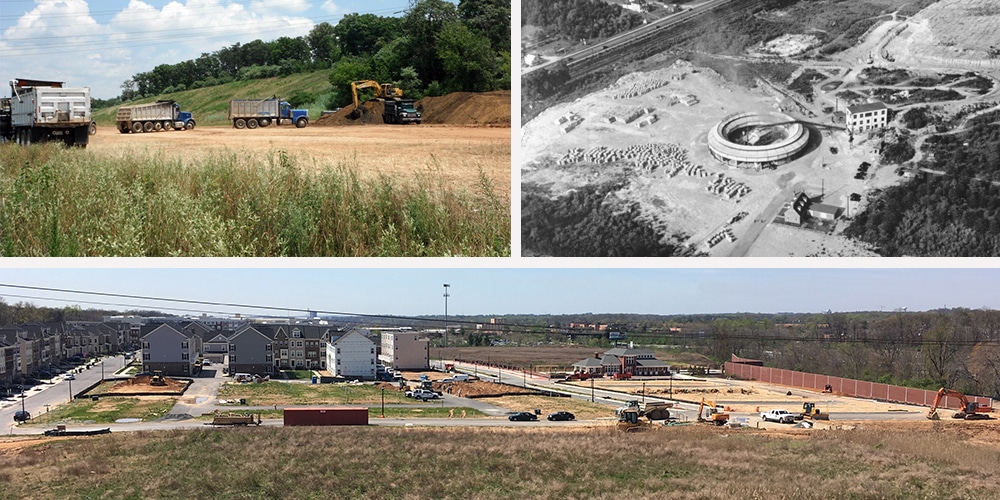 GTA is responsible for Phase I and Phase II ESAs for the 45-acre redevelopment of a historic, but environmentally contaminated, former industrial property into residential community for a national home builder. The site was historically used by the Washington Brick Company, which began operations of a brick manufacturing and clay mining facility in the early 1900s. In 1991, the site was partially used for recycling of non-hazardous petroleum impacted soils in conjunction with the brick manufacturing. This site is one of the first developments to be accepted into Maryland Department of the Environment's (MDE's) Voluntary Cleanup Program (VCP) that included single-family residences. GTA is implementing a Response Action Plan (RAP) that includes capping and engineering and institutional controls. Laboratory analysis of samples collected from the site reported elevated concentrations of petroleum constituents and metals in soil, and petroleum constituents and VOCs in groundwater. In addition, 26,000 tons of petroleum impacted soil (controlled by the MDE's Oil Control Program) was removed from the property.
Lancaster Newspaper Parking Structure, Lancaster, PA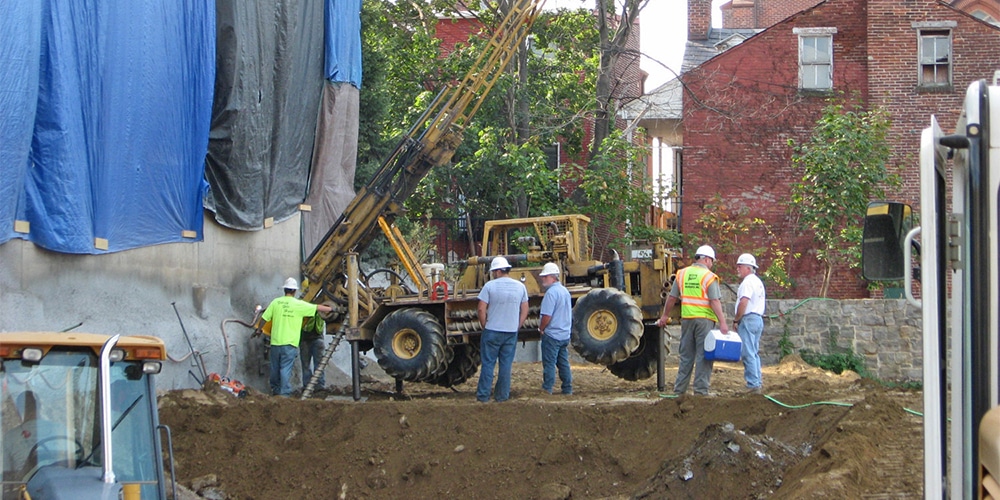 GTA ESI provided environmental services during the construction of a six-level precast concrete parking structure in Lancaster, Pennsylvania.  GTA ESI was retained during the installation of caissons when petroleum-impacted soil and groundwater were encountered.  On an emergency basis, GTA ESI mobilized vacuum tankers and roll-off containers for containerizing and capturing the contaminated media with minimal impact to the overall construction schedule.  The garage required excavations up to 17 feet in depth within an urban environment with existing structures on two sides of the proposed garage.  The onsite space constraints required continuous communication between three separate contractors, the client, and GTA ESI.  GTA ESI also provided environmental health and safety monitoring and consultation when unknown, volatile substances were encountered during horizontal drilling operations.
Additionally, soils impacted with heavy metals were identified on portions of the property during the foundation excavation activities.  GTA ESI provided onsite soil management, sampling, disposal, and backfill placement so that horizontal and vertical drilling crews and excavation crews could continue operations with minimal interruptions.
This three-acre project addressed petroleum impacted soils and groundwater, heavy metals impacted soil, health and safety issues.  The project was closed through the PADEP Special Projects Section.
Representative Projects
---