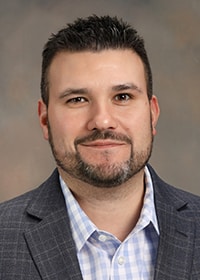 W. Shawn Sullivan, P.E.
Vice President
Geotechnical Engineering
Construction Observation and Testing

Office: (984) 200-2104
Cell: (984) 500-6192
ShawnSullivan@gtaeng.com
We are happy to announce the appointment of Shawn Sullivan to V.P.
Shawn joined GTA in 2015 as the Senior Geotechnical Engineer and Office Manager of our new Raleigh, NC location. He has been instrumental in growing the office and now serves as a Vice President of the firm.
Shawn is a licensed professional engineer in North Carolina with 19 years of experience providing geotechnical engineering and construction materials testing services for commercial and industrial facilities, low- and high-rise buildings, and single- and multi-family residential projects. He is particularly knowledgeable of the North Carolina Triangle and Triad area markets, geologic conditions, and associated challenges.
He has extensive experience in development of design recommendations for a wide variety of projects requiring shallow, intermediate, and deep foundations, stormwater management facilities, earthwork, rock excavation, flexible and rigid pavements, geologic studies, geophysical surveys, damage studies, groundwater and drainage, retaining walls, and slope stability. Additionally, Shawn has experience providing in-situ pressuremeter and dilatometer testing and data analysis; vibration blast monitoring, shear wave velocity testing, seismic refraction testing; and building services including property condition assessments. He is also proficient in laboratory testing following ASTM and AASHTO standards.
He holds a Master of Science degree in Geotechnical Engineering and a Bachelor of Science degree in Civil Engineering with a Mathematics Minor from the University of North Carolina at Charlotte. He is also a member of several professional and trade organizations including: American Society of Civil Engineers (ASCE), Professional Engineers of NC (PENC), American Council of Engineering Companies (ACEC), Geo-Institute, Deep Foundations Institute (DFI), National Society of Professional Engineers (NSPE), and Urban Land Institute (ULI).
Shawn has completed the ACEC Future Leaders program, and Fundamental of Professional Practice program, while achieving first in class honors. He currently manages the GTA Raleigh operation, while assisting our team of Field Scientists, Project Managers, and Engineering Technicians, providing geotechnical, environmental, and construction testing services for a variety of healthcare, commercial, infrastructure, high-rise office, and residential projects.
GTA Associates, Inc. is an affiliate of Geo-Technology Associates, Inc. and provides professional services in North and South Carolina.